Page 1 Transcriptions
rustle dash dash dash Brother, there's movement behind... Leave it, hurry!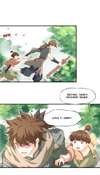 Page 2 Transcriptions
Brother, that older sister is right! You can't throw away your life just because of this sword! A-ya! They are sheltered so they don't know me, do you not understand me either!? but brother... if you die, what about me!?