Page 1 Transcriptions
so you're the one who's been stealing food! uwahhh~ pinch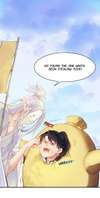 Page 2 Transcriptions
what demon, you're obviously human. push~ flap flap I was hungry, how could I not eat!? so you disguised yourself as a demon? there are a lot of scarecrows here that can move, so I hid myself! cover forehead... you make it even more obvious like this.

Page 3 Transcriptions
take off your costume! no! I'll be exposed! you already exposed yourself! take it off! wahhh! ...I still think they're in cahoots. leave them be. a great beauty has arrived at the village chief's house, let's go back and take a look! startled!

Page 4 Transcriptions
I need to leave this village. but before that———— who are you guys!

Page 5 Transcriptions
We are sisters from the Fragrant Pavilion, here to find a heartless man~~~ goosebumps what heartless man? what does he look like?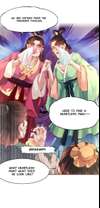 Page 6 Transcriptions
thud!! there's no heartless man here! only a demon scarecrow going around stealing food! we didn't particularly pay attention to his appearance, but! he carries a legendary sword on his back! approaches has the village chief seen him? village chief! get it together! stealing food! that's right! it's that kid! !!

Page 7 Transcriptions
Brothers, appear~ appear~ search! yes! chief! where did they all appear from?! stab stab stab stab stab looks like you have no way of getting some food before leaving.

Page 8 Transcriptions
no wonder you're hiding, who did you offend? the whole martial arts circle... I guess.
Page 9 Transcriptions
Who exactly are you? I'm Jianxiao Yue. takes off It's been a month since I descended the mountain, leaving my master. I'm Just a wanderer.

Page 10 Transcriptions
I specialize in expelling demons. People call me the skillful, loyal, young man of Deng Yun, He Fang. He he~ Call me sir taoist. Fang fang~ hold hands~ Call me sir taoist. Hm? they seemed to have gone far away. this sword of yours... ! T/N: Nickname for the taoist by this character

Page 11 Transcriptions
wary mysterious like deep water, sharp but not revealing itself, it's a good sword. unfortunately, things develop in the opposite direction when reaching an extreme. too much flaunting will instead bring trouble.

Page 12 Transcriptions
if it was me, I would not be willing to bring this item of misfortune everywhere I go. ...he he is really a wise man.

Page 13 Transcriptions
those people pursuing you were drawn by this sword? Yeah. on his deathbed, my master tasked me to return this sword to an old friend. but at that time... xiao xiao, return this to...

Page 14 Transcriptions
Deng... Deng... Deng... Deng... Deng... Light, wait for the light? master, what do you wish to explain? master, don't die yet! finish what you were saying! ugh—— T/N: the chinese character 'Deng' can mean 'wait', 'light' or the surname 'deng'

Page 15 Transcriptions
as to how to fulfill his last request, I am also at a loss... ...I understand. pat pat I don't know how it got around, but this sword became a legendary sword.

Page 16 Transcriptions
...... the one who obtained and unsheathed it, will be able to dominate everything... or something like that...

Page 17 Transcriptions
isn't that so... ! three men make a tiger, gossip is a fearful thing. the group this time is considered small... one time I was surrounded in a mountain and couldn't come down for days... alright, I'll lend you a hand. Fang fang! escape from the back of the village, I'll go distract them. ......

Page 18 Transcriptions
turns ...... no! this isn't loyalty! we should escape——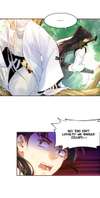 Page 19 Transcriptions
——as if! the trouble is yours, let's not meet again! kick!! together...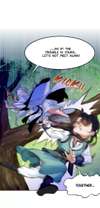 Page 20 Transcriptions
he's not here! he must have taken the opportunity to escape! thump! let's block him at the back of the village! back of village———— as expected he's here!
Page 21 Transcriptions
other side no one's after me?

Page 22 Transcriptions
hand over the sword! what sword? I don't know about it? stop pretending! the village folk say you two are in cahoots!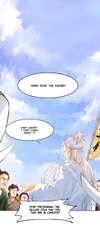 Page 23 Transcriptions
intermittent shadowless feet! kick!! chaotic dizzy punch! huaah! catch him, he'll be our hostage! you're serious?! then I won't hold back either! they're all normal humans, a little scare will do. watch my earth-shattering———

Page 24 Transcriptions
crying~

Page 25 Transcriptions
your bro's in our hands, hurry and hand over the sword! We'll spare him———— don't move! your bro... pretty boy, listen up! your bro... pretty boy, listen up! a moment of distraction got me tied up, my reputation...

Page 26 Transcriptions
what's for lunch? what's for dinner? we'll spare him—— we'll spare him—— your brother... it has been some time now, that kid should have already gone far. I wonder what they'll do—— pretty boy, listen urghhh—— boom swoosh——

Page 27 Transcriptions
whoosh

Page 28 Transcriptions
why did you come back? I treated you like that and yet you still came back to help me? to protect me, you put yourself at risk, I got it! ...your kindness makes me ashamed. I rushed over as soon as I heard the voice! but I kept getting lost, lost...
Page 29 Transcriptions
Roar!! !! ...... you two are even chatting! thud! my 833rd wooden sword!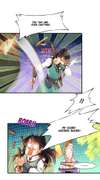 Page 30 Transcriptions
I also want to use it! at him! at him! get the sword! get the sword! but... hand the sword over! don't you have a real sword on your back?
Page 31 Transcriptions

Page 32 Transcriptions
this proud sword—— hand——spurt! no one can unsheathe it? here, for you.

Page 33 Transcriptions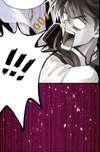 Page 34 Transcriptions
glows how can you un-sheathe it?! eh? how?

Page 35 Transcriptions
this sword...! You... dazed~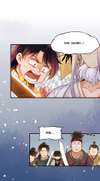 Page 36 Transcriptions
who exactly are you? didn't I say it already? He Fang of, Deng Yun Gate?

Page 37 Transcriptions
Spirit Slash Sword Scroll of Cloud field guide Spirit Slash Sword Artifact level: unknown Ability: unknown Owner: unknown Other: it looks very powerful~

Page 38 Transcriptions
快活 Kuaikan Comics