Page 1 Transcriptions
Story · Jo Joonhee Art · TI Chapter 21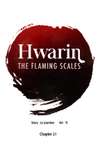 Page 2 Transcriptions
You're Kang Taepyeong from Pacheon, right? ! h-how did you know that?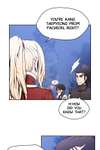 Page 3 Transcriptions
b-by any chance, have we met before? Somehow you look familiar... could it be... she's an assassin from the black sky sect?! That means... the food might be poisoned! What should I do? Spit it out? Or eat as if I'm a crazy person?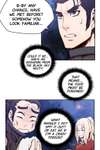 Page 4 Transcriptions
Hahahaha As a leader of thousands of people, how can you be so cowardly...
Page 5 Transcriptions
Wouldn't it be strange if I didn't know who Kang Taepyeong was and what he looks like? But I didn't know that people bully you for being a poor bachelor.... Ha! Hahaha! Who's not brave?! I just saw a tiger passing by behind your back and I tried to scare it away. Hahahaha Tiger? where? where? Stop, you idiot! I'm so embarrassed!