Page 1 Transcriptions
I, I don't understand your words, go away! ...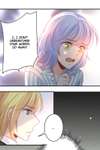 Page 2 Transcriptions
I know there's misunderstanding between us, it doesn't matter if you refuse to admit it, when I get the evidence, I'll definitely give your justice back! then have a good rest, I'll come to see you again.