Page 1 Transcriptions
Chapter XIX : Legends Make Cooler Stories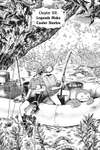 Page 2 Transcriptions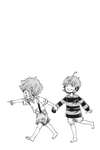 Page 3 Transcriptions
I KNOW ... IT WASN'T LONG ... I CAN'T DO IT ... I'LL STRIKE A COOL POSE THIS TIME , OKAY ?! I'VE JUST FOUND YOU ... MORREY !!! YOU KNOW I'M RIGHT ! I'M NOT ASKING YOU AS A BROTHER ... I'M TELLING YOU AS YOUR FATHER ! MORREY , ARE YOU STILL THERE ? OKAY , THEN ... MIDAS ! KING MIDAS ! YOU'VE GOT TO LISTEN TO ME THIS TIME !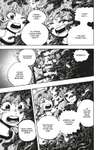 Page 4 Transcriptions
DO YOU WANT TO BE ABSORBED SO DISHONORABLY BY THE ART DEALER ? A KING SHOULDN'T DIE WITH SO LITTLE STYLE ! ARE YOU STILL IN THERE ? THE STUBBORN KID WON'T FIGHT YOU ANYMORE ! BUT THIS ONE ISI TAS CREEDY ASITHOUCHTI FUE BEEN TRYING FORDAYS TO TAKE OUER .. THIS IS HIS WEAKEST MOMENT , AND YOUR CHANCE TO TURN IT AROUND ... YOU HAD ME AT / DISHONOR ! I'm on YOUR SIDE ! YOUR LAST CHANCE TO TURN SOMETHING INTO GOLD AS YOURSELF ! ... OR THE ART DEALER WILL GET EVERYTHING HE WANTS !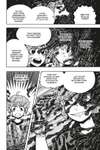 Page 5 Transcriptions
THESE ARE MY HANDS NOW ! MY TRIUMPH , AND THEY OBEY MY ORDERS ! I'M GETTING WEAKER .. DISSOLUINC . BUT EUENIT ABDICATION , ICAN enjoy ure one LASTTIME ! NO ! I WON'T LET YOU DO THIS ! I WON'T GIVE YOU THIS GIFT ! IT CAN ONLY BELONG TO ME ...
Page 6 Transcriptions
SLAP IS TOO PRECIOUS TO GIVE TO SOMEONE ELSE ! MY LAST MOMENT WITH MY BROTHER ...