Page 1 Transcriptions
BlackAura? Divine Doctor, are you joking with me? I can't help it ifyou don't believe me, it's late, I haveto go home and domy homework. Wait! Divinedoctor, Ibelieve you!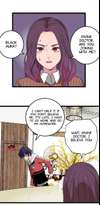 Page 2 Transcriptions
Do you have a way to get rid of my daughter's black aura? I'll reward yougenerously! Tian Chanzi, can this curse be removed? The current You can't do it. This curse contains the consciousness of the demon. I'm afraid you won't be able to deal with it after you forcibly dispel the curse. ......!