Page 1 Transcriptions
Tiger Guo, whydid you wantto call thatTang Zheng? Slurp Slurp Slurp. How is itthat youdon't haveanycavities?

Page 2 Transcriptions
I also gotto knowby accident... Big head Fanrecently tooka job, that was to deal with that Tang Zheng. I didn't expect his men to be beaten half to death instead. Shiver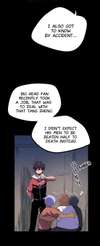 Page 3 Transcriptions
Big Brother Fan,that Tang Zhengis not an ordinarystudent at all!He may be a martial artist!!! He smashedthe wallwith hisbare hands!!! He was able to defeat Big head Fan! It really makes me laugh!!! Roar!!! The boss is brave! The boss is brave! The boss is the best! The boss is the best! Slurp Slurp.