Page 1 Transcriptions
PREVIOUSLY GOOD MORNING ... I'M SO HUNGRY . IS THERE ANYTHING TO EAT ? I PREPARED MY SPECIAL CAKE FOR
Page 2 Transcriptions
I PREPARED MY SPECIAL CAKE FOR YOU TODAY ! SHE KNOWS THEIR LEVEL OF THE HIERARCHY , HEY , SIXUN , YOU MUST COME OVER TODAY ~ !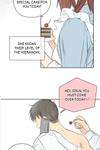 Page 3 Transcriptions
RIGHT ... OK ... AND ACCEPTS THE FACT THAT SIXUN HAS HAD MANY GIRLFRIENDS ... HER LOVE WILL NEVER BE ACCEPTED ... BUT IT WAS ENOUGH TO STAY BY HIS SIDE EVERY DAY .