Page 1 Transcriptions
TROPHY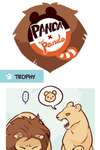 Page 2 Transcriptions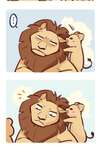 Page 3 Transcriptions
Page 4 Transcriptions
WHAT TO DO?
Page 5 Transcriptions
Page 6 Transcriptions
ANIMAL FACTS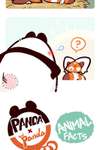 Page 7 Transcriptions
Remember these guys? Males and females have different roles in a pride of lions. Lionesses are mainly responsible for hunting and feeding the cubs.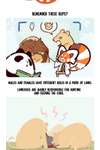 Page 8 Transcriptions
Male lions are responsible for guarding the pride and their territory. They'll even fight with other predators (like leopards, spotted hyenas, and even crocodiles) to maintain their high position in the food chain. The only time that a male lion will actively hunt is when they are still young and their mane has yet to fully grow out.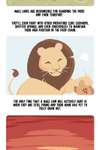 Page 9 Transcriptions
Once fully matured, the darker-coloured mane makes it easy to spot the lion, making it difficult for the lion to stalk their prey. The lion is the top carnivore in Africa. It's also the only feline that has clear distinctions between males and females. The more powerful male lion may sometimes help the lionesses to bring down larger prey.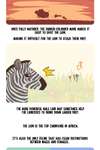 Page 10 Transcriptions
Male lions have large, long manes. The color ranges from light brown, to dark brown or black, and so on. It extends all the way down to the shoulders and chest, and is an indicator of sexual maturity.
Page 11 Transcriptions
The color of a lion's mane is related to its level of testosterone. Sometimes, lionesses can also grow manes, similar to those of male lions. It's fairly uncommon, and the cause remains unknown. Humans have nicknamed the lion the "king" of the animals. Along with the tiger, it's one of the big cats of the world. It's a well-known species in the genus Panthera. Darker-colored manes are actually far more attractive to female lions than lighter-colored manes.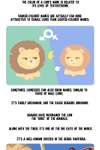 Page 12 Transcriptions
Other famous big cats in the genus Panthera include: The leopard, the jaguar, and the snow leopard. The tiger has also sometimes been called the "king" of animals. They're commonly found in mountains and forests.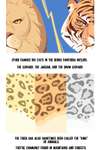 Page 13 Transcriptions
So you could say that the lion and tiger are both "kings", but of different environments. On the other hand, the lion prefers grasslands, and can sometimes be found in dry woodlands and semi-deserts.