Page 1 Transcriptions
BATH-TIME 1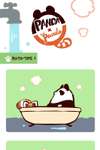 Page 2 Transcriptions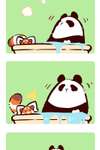 Page 3 Transcriptions
BATH-TIME 2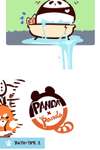 Page 4 Transcriptions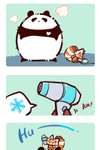 Page 5 Transcriptions
30 MINUTES LATER... TOO MUCH TROUBLE. JUST TAKE A COLD SHOWER NEXT TIME.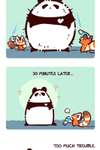 Page 6 Transcriptions
TOO MUCH TROUBLE. JUST TAKE A COLD SHOWER NEXT TIME. BATH-TIME 3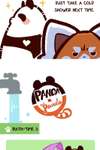 Page 7 Transcriptions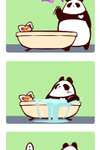 Page 8 Transcriptions
WATER LEVEL ANIMAL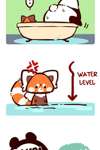 Page 9 Transcriptions
ANIMAL FACTS Many people think that the panda's "dark circles" are very cute. So is the purpose of the "dark circles" to make the panda look lovable? Of course, that is not the case.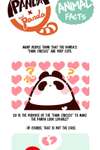 Page 10 Transcriptions
The markings on the panda's face are not for cuteness or camouflage, but are used to communicate with other pandas. Pandas are able to tell the minute differences in shape and size of other pandas' dark circles.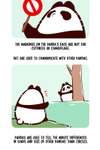 Page 11 Transcriptions
This helps them to identify others of their species. When a panda spots a rival panda, they can even enlarge their own dark circles.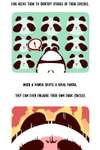 Page 12 Transcriptions
Humans might think the panda's dark circles are cute, but the panda thinks they make him look very fierce. WARNING FEROCIOUS PANDA DETECTED When the panda doesn't want to look so fierce, he will use his own paws to hide the dark circles.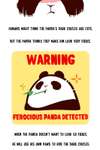 Page 13 Transcriptions