Page 1 Transcriptions
Chapter 37 YEAH . THEY ASKED IF WE'D BE WILLING TO PARTICIPATE . SHE ORIGINAL LY ASKED SOMEONE FROM SHINEEZ TO COME , BUT THEY CANCELED ON HER . 117 I WANT TO HELP HER AND HER SISTER OUT IF THEY NEED IT . APPARENTLY , MAKI'S LITTLE SISTER IS ON THE FESTIVAL'S COMMITTEE . WELL , IT'S NOT LIKE MAKI IS A COMPLETE STRANGER TO US . A HIGH SCHOOL FESTIVAL ? IT'S RARE FOR US TO GET WORK FROM PLACES OUTSIDE OF MR . LAVEN DER'S INFLUENCE . I SEE . SO SHE ASKED US NEXT BECAUSE SHE'S GOT CONNECTIONS WITH OUR MANAGER .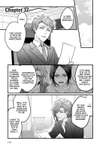 Page 2 Transcriptions
AH ... WE'LL BE GIVING A MINI - CONCERT ON THE LAST DAY OF THE FESTIVAL , BUT THE GIRLS ASKED IF WE COULD HELP OUT AT THE FESTIVAL AS MUCH AS POSSI BLE UNTIL THEN . I GUESS WE'LL HAVE TO ASK AT OUR MEETING . 五 區 003 CONCERT , ETC. 日 郵 針 動 球 租住 家 n - 准 花 癜 计 妆 古 海 肪 肝膽 珍 右 消除 開 C OC -- - 化 的 -- -- 10030 週 計 菜 WHAT DOES THIS " CONCERT , ETC. " MEAN ? WHAT COULD WE POSSIBLY DO TO HELP OUT ?