Page 1 Transcriptions
Chapter 34 WE GOT AN OFFER TO APPEAR ON TRAVELS TOGETHER ?! IT GIVES THEM AN OPPORTUNITY TO BUILD NEW RELATIONSHIPS OVER THE COURSE OF THE TRIP . IT'S A SHOW WHERE THE GUESTS GO ON A TRIP WITH THE PEOPLE THEY'RE MOST INTERESTED IN AT THE TIME . THIS SHOW IS FOR PEOPLE WHO WANT TO EXPAND THEIR SOCIAL CIRCLES BUT HAVE NO WAY OF DOING SO . 300 WHAT ?! WHAT'S TRAVELS TOGETHER ? ?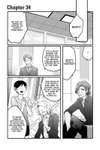 Page 2 Transcriptions
A LOT OF PEOPLE WATCH IT BECAUSE THE GUEST PAIRINGS ARE INTERESTING . FUMI , YOU'RE GOING WITH US ? WATCH YOURSELF , SON . SO IT'S A TEAR JERKER ? UH , NO ... IT'S JUST A TRAVEL PROGRAM ... U HEH HEH , I'M GLAD WE'LL BE ABLE TO GO ON THE TRIP TOGETHER ! I CRY AT LITERALLY EVERY EPISODE ! YES ! I'LL BE THERE TO HELP WITH ANYTHING YOU NEED . AS A FORMER LONER , IT'S A TV SERIES THAT HAS NEVER FAILED TO MOVE ME ! ALTHOUGH IT'S CONSIDERED A TRIP , THE PLACE WE'LL BE GOING TO IS IN THE KANTO REGION AND WE'LL ONLY BE STAY ING FOR ONE NIGHT .