Page 1 Transcriptions
Chapter 28 PRESS A HERE . YOU'RE FREE TO GO . I WAS SO SURPRISED ... WHEN THEY CARRIED YOU IN . I THOUGHT THERE'D BEEN A TERRIBLE ACCIDENT . THANK YOU . CO 1 TO BE HONEST , I WAS SURPRISED TOO . IT WAS DEFINITELY NO LAUGHING MATTER ! THEY MADE ME COME GET IT LOOKED AT . I THOUGHT YOU'D LAUGH BECAUSE IT WASN'T SERIOUS AT ALL ...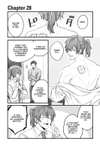 Page 2 Transcriptions
KIRA LOOKED LIKE HE WAS READY TO CRY AS HE DRAGGED YOU OUT OF THE SET . I THOUGHT MY HEART WOULD STOP . YES ! THANK YOU AGAIN . WELL , AT LEAST THE BEAM ONLY GRAZED YOU . OH ... YOU SEEM TOTALLY FINE .