Page 1 Transcriptions

Page 2 Transcriptions
Jinghu, Meng's residence Chapter 7: Breakthrough Qian Fang, what is the young master doing? Master, the young master is still practicing martial arts. It's getting dark, but why is he still practicing? How long has he been practicing? He has been practicing like this since dawn. He only took a break to eat.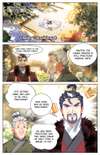 Page 3 Transcriptions
Why is he practicing for so long? Aside from eating, he also stopped to sleep, write, take herbal baths, or when he's in the purifying process. For the past few days, young master has taken a herbal bath every night and then practiced his sword arts for an hour after that. And he spent the rest of the time to practice. It's about six or seven hours a day. Several days ago, he started reading some divine demon biographies. I don't know what's on his mind lately, but it seems like he put all his efforts on practicing. I can't even stop him. Did he experience something drastic in the past few days? Swoosh Swoosh Swoosh Swoosh Swoosh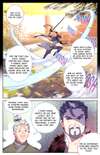 Page 4 Transcriptions
I got it! It must be because... I'll be back later! ? A minute later Chuan'er! Chuan'er, come here. Father.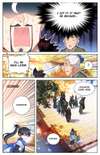 Page 5 Transcriptions
Chuan'er, from now on, these eight people of purifying realm and three of the rebirth realm cultivators will help you with your training. Not only that, there will be six seniors of nirvana realm taking turns to accompany you to practice every month. The clan has decided to support you in cultivating. Really? I will practice as hard as possible! Try to compete with the six nirvana cultivators. As long as you appreciate what you receive, there is nothing our family can't afford to get it for you. Bam!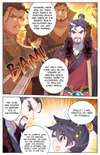 Page 6 Transcriptions
And here, you can keep it! You're amazing, father! Is this the divine demon's biography? Perhaps it can help you relax! Wrong. This is an easy-reading and interesting book. It's a joke collection. Interesting book? Why?! Thud!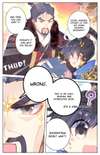 Page 7 Transcriptions
Bam! Chuan'er, I only cared about the family problems before and didn't paid attention on your feelings. It was all my fault! But remember that as long as you practice earnestly, those who wronged you will definitely regret it! I always thought that you were just a kid, but it turned out that you are so mature! Why would a determined man like you have to live without a wife?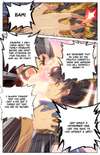 Page 8 Transcriptions
There is nothing more for me to say. I, your father, hope that you'll understand! Anyway, don't think about it too much! Huh? Hang on, father! This book... What do you mean by living without a wife? We feel you! We will try our best to help you! You poor kid... What?! Don't be sad! Father, what's going on? ? ? ? What did he mean about it? What was I thinking? I got it, Father has been under too much pressure recently!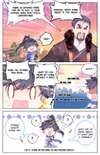 Page 9 Transcriptions
However, it's great that I have these powerful martial artists to compete with. Not to mention all these nirvana cultivators are very important to the Donging mansion. I have to take this chance! From that day on, Meng Chuan became even more diligent, and he even practiced his martial arts from dusk till dawn. He sparred with strong cultivators every morning. And spent time to practice alone in the afternoon and evening. And to reflect on the combat in the morning. Clang! Clang!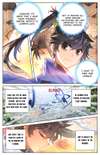 Page 10 Transcriptions
Unconsciously, his technique and skills have improved in a way that no one could imagine. Early in the morning, martial arts field. Wang Chang. Shadow sword Wang Chang Isn't the combat over? Why are you still here? Time is precious for someone who is from Nirvana realm like you. why are you still watching that kid practice even though his match is over? How much did money you earn by watching that kid practice?
Page 11 Transcriptions
Don't be ridiculous, I'm not staying here for money. I'm watching him because I thought that he's quite interesting. I haven't seen such a talent in Dongning for years. No, there's something in him that's very different from other geniuses. Swish Swish As if he has grasped some extraordinary moral of martial arts. Could it be that he was taught by another master? Swish Swish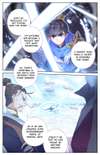 Page 12 Transcriptions
He still patiently repeated his practice and consciously paid great attention on each of his move at such a young age. Allowing him to form a perfect formation as a whole. By that, he can understand the true meaning of the stance itself. And to freely realize the beauty of the formations. How fun watching the kid finding the true beauty behind his formations! It feels like watching an artist creating a magnificent painting!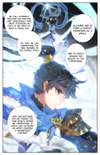 Page 13 Transcriptions
He's improving at a rate that he probably doesn't even notice. It might be slow at first, But gradually his speed will increase. Cultivating is just like pushing a large stone down a mountain. It forces you to use torrential energy. However, the more surging your power is, the more it becomes unstoppable! Gradually, the power reached its peak...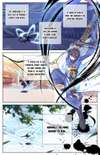 Page 14 Transcriptions
Everything will change all at once! Bam! Swish! Swish!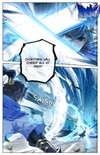 Page 15 Transcriptions
Gradually dissolve... !! This feeling...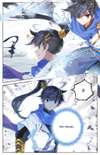 Page 16 Transcriptions
All of my moves united into one! I can feel the unity of my flesh, blood, bones, muscles and my heart! Nothing binds my body and my soul! Does it mean, Did I learn my secret skill?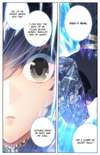 Page 17 Transcriptions
I, Meng Chuan, took another step forward so that I can become a divine demon! The realm where my body and my mind merge into one! I've finally understood! Boom! Three autumn leaves, a falling leave ended the autumn!