Page 1 Transcriptions
Page 2 Transcriptions
Mengs' residence at Jinghu - study room Hey~ do you know where the young master is? young master has been practicing swordsmanship for the whole day, he's painting in the study room right now. Young master really likes art. Maybe he was influenced by his mother. Chapter 5: The annulment of the marriage! If madam is still alive, he wouldn't be painting alone. The young master of our family has a talent for art. Sigh, if it weren't for that tragedy...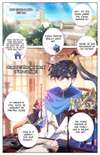 Page 3 Transcriptions
Chuan'er. Father? Usually, father won't bother me when I'm painting, what's the matter? Chuan'er, hurry up and go to the ancestral house with me. Alright, did something happened? It's the engagement between you and Yun Qingping. We're going to break off... the engagement with the Yun family! Knock! Knock! Knock! !!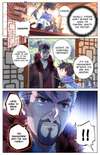 Page 4 Transcriptions
Father, why are you breaking off the engagement all of a sudden? You don't want to break off the marriage? No, Qingping and I aren't a great fit, so I think it's good that the we are annulling the engagement. I'm glad that's what you think. When we get to the ancestral house, don't speak, just listen. Since The Yun family annulled the engagement first, I'm sure the Meng Family will think that this is a huge humiliation! The elders actually accepted it? I feel like something big is going on in the Meng family.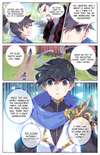 Page 5 Transcriptions
Meng family's ancestral house The Meng family was originally from the countryside. The ancestral houses of the Meng family located in the West side of Dongning, so it takes up a large area. People of the countryside build forts to protect themselves from the threat of demon clans. More than two thousand people are living in it. During thousands of years that the Meng family lived there, three large forts were built. Greetings, elder. Whoosh! Greetings, elder. Whoosh! Whoosh! Whoosh! Whoosh!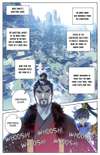 Page 6 Transcriptions
Eh? Why do most elders seem unhappy? On the contrary, the Yun family seems so energetic. Dajiang, you're finally here. Did you bring the marriage contract here? I did.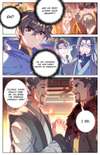 Page 7 Transcriptions
None of the other elders disagree with the annulment. Dajiang, I'm sure you have the same thoughts as the elders, right? This is the marriage contract. Please destroy it immediately. The marriage will be a good thing if we both agree on it. Now that you no longer have that intention, we should break off the engagement as soon as possible.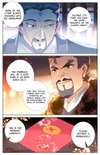 Page 8 Transcriptions
Rest assured, I'm not that shameless! Haha, are you worried that I will go against my own words at important times in the future and force Meng Chuan into the marriage again? I have torn the marriage contract apart. You all saw it clearly, so don't worry. Whoosh!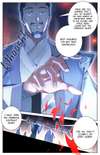 Page 9 Transcriptions
Meng Chuan, keep this in mind now. From now on, you have nothing to do with my daughter Qingping. He's even bullying the child! Humph! What a pretentious man! How despi-cable! Heh heh!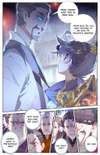 Page 10 Transcriptions
Alright, we no longer have any connection.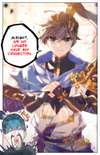 Page 11 Transcriptions
Tsk. How could he be so arrogant? He should be on his knees and crying about the annulment. Humph, let's go! Chuan'er, you did a good job staying calm. Father. Chuan'er, now that the engagement is annulled, you can leave first. I have something to do here. Yes, father.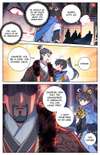 Page 12 Transcriptions
What a liar! How despicable! The Yun family only came here to pressure us! But Yun Fuan's shameless behavior was so annoying! The annulment is also a good thing, there's no point to force them to get married anyways! It would only ruin the relationship between us and the Yuns. Rumble! So what? It's not like we can go to the Yun family and make a fuss about it. Their elders will kill us! WHOOSH!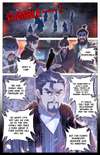 Page 13 Transcriptions
WHOOSH! If anything happens to her... In fact, the marriage contract is just a small thing. For our Meng family... What truly disturbing to our foundation is third sister's injury! Leader, can't third sister's injury be cured? Third sister will be back to Dongning in two days. We'll talk about it then. the glory of the Meng family will probably be over. Whoosh! Whoosh! WHOOSH!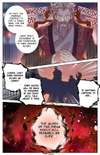 Page 14 Transcriptions
That night ...... Stare blankly... Ah Chuan, you're back! Sit down, let's have a meal together. I heard that you went to the ancestral house with uncle Meng today. Heh heh... Great smell!! I thought you would be late for dinner. Stare Why didn't you say anything when you return? Huh? What's wrong? Steaming!! Stare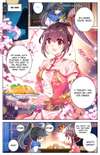 Page 15 Transcriptions
It's nothing, the engagement between me and Yun Qingping is over. Woah, what a relief! Oh, it's nothing, I'm just afraid that you're too sad to eat. What's the matter? We don't get along anyway, so it's a good thing the marriage is off. Then why are you gazing blankly? I feel like something's off. But today, the Yun family only sent the fifth-ranked Yun Fuan here, the other three elders didn't show up. The marriage was originally decided by two ancestors. Excited!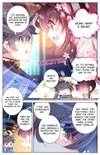 Page 16 Transcriptions
They're really looking down at our Meng family. When I was there, the elders were clearly angry but they tried to hide their anger. If it wasn't because the Yun family has someone powerful to back them up, that means that there's something happening to the Meng family. Ah Chuan, I never thought you would think so much about this. It's just my guess. I'm surprised you're still happy after your engagement got annulled. Hurry up and finish your bread. Bread time, bread time!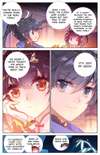 Page 17 Transcriptions
Dongning province Rustle!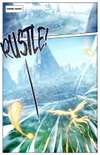 Page 18 Transcriptions
Flap Roar!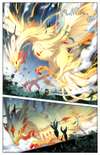 Page 19 Transcriptions
Junior Huang, we have arrived at my hometown. The devine demon of the Meng family - Celestial Meng Roar!