Page 1 Transcriptions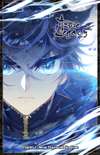 Page 2 Transcriptions
The great Zhou dynasty - Wuzhou - Dongning Mansion Main entrance of Jinghu Academy Hey, do you know where young master Meng Chuan is? You mean Senior Meng? He hasn't arrived yet. Seriously?! He hasn't arrived?!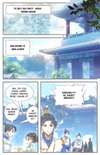 Page 3 Transcriptions
Oh please! Although he's younger than us, our senior has already entered the Shanshui hall. Also, he's one of the top 22 apprentices of Jinghu Academy! ANXIOUS— The maid of the Yun family is here to see senior Meng again! He's from the Meng family of Dongning province, and you're just nobody. I'm so envious of senior Meng. He's engaged to the lady of the Yun family. But senior Meng is a very nice person. Other seniors aren't even bothered to pay attention to us. sigh, I want to have a fiancee too! Senior Meng is very friendly, he's always willing to guide us. Not really, I still think that Miss Qiyue is better... They say that the young lady of Yun family is very self-willed. Hey! If you want to live, you'd better stop talking about this... Ah! Senior Meng! What are you guys talking about?! It's nothing! It's good to see you today!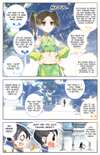 Page 4 Transcriptions
Greetings, senior Meng! Greetings, senior Meng! Meng Chuan Young master! Lu Zhu, why are you here?
Page 5 Transcriptions
My lady wants to invite you to join a trip to the East Mountain! The East Mountain? The East Mountain is pretty far away. We'd have to stay there for a night and leave the next day. Our Yun family has a place to stay there over night. That's not what I meant. The Demon Slaying banquet at the Yuyang palace is in a month. I can't accompany her. You should return and tell Qingping to spend more time on her cultivation. I should focus on cultivating.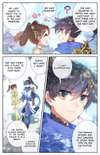 Page 6 Transcriptions
Huh?! Young master! Wait! Young lady will be angry! SIGH- Why is cultivating so important to you?! West side of Jinghu Meng family's residence I'm back. Young master! Is my father inside? The main family sent someone over just now, and master immediately rushed over there. How about Qiyue? Young master, Miss Qiyue is at the training square. I got it... Meng's mansion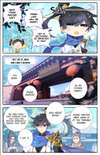 Page 7 Transcriptions
Meng family's residence - training square Whoosh! Whoosh! Whoosh! Swish!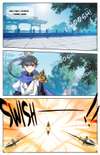 Page 8 Transcriptions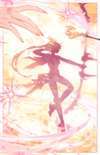 Page 9 Transcriptions
Your archery skill is great! Clap clap- Thud! Thud! Thud! Thud!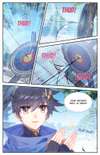 Page 10 Transcriptions
Huh? Ah Chuan! You're back!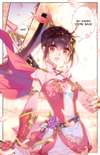 Page 11 Transcriptions
sigh, I don't get it. How could you aim for the target so accurately? Stop it, you're just being exaggerating. If it wasn't for you, I wouldn't go to the Archery Hall of the academy to practice my archery skills. It's very boring to shoot at those targets. Come here, be my target. Huh?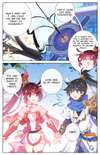 Page 12 Transcriptions
Fine, I'll be your target. Wait a minute, I'll change the arrows into the ones without tips. You'd better focus, or I'll break your Arrow of seven-star alignment. Ah Chuan, you're the one who should focus. Otherwise, you'll get injured. Swish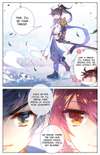 Page 13 Transcriptions
Take this! Swish Clang! Clang! Clang! Clang!
Page 14 Transcriptions
Ah Chuan, your sword formations is getting better these days. It seems like I'll have to use the Arrow of seven-star alignment. It's here! Bang!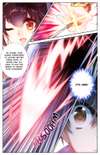 Page 15 Transcriptions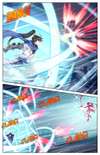 Page 16 Transcriptions
Oh no! I missed one! Boom!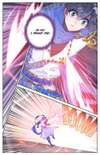 Page 17 Transcriptions
Hiss, It hurts. sigh, I couldn't block it. The "Arrow of seven-star alignment" was the only one that you couldn't block. When I was in the academy, even the ones of Purifying Realm couldn't block my "Triple Illusion Arrows", but you managed to do it. You can already block four of my five greatest skills. I've been practicing to block your arrows from a young age. Of course I'm better then the people in the academy. Ah Chuan, have you heard the no one of the same realm can fight against archers? Qiyue... If it were a real battle, I would definitely attack you heads on immediately.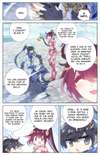 Page 18 Transcriptions
Every archer has their own escort. My escort would have blocked you, and then you'll become my target. But who knows, maybe you'll become my escort in the future! Rustle Rustle