Page 1 Transcriptions
> Chapter 7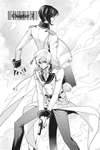 Page 2 Transcriptions
LAM PLAM KA - CLICK SHIT ! FROM THE THEIR VERY GOAL WAS TO START ... GET US AWAY FROM OUR HANGERS . WAAH ! WAM BLW I'VE HAH ! MESSED IT ALL UP . Ball lolam RIP TE Jalan VPLAN REN ING I CAN'T MOVE AT ALL ... WITH THIS WOUND ...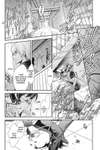 Page 3 Transcriptions
ARRAY EASILY THE BEST TASTE THESE L NOTU PIRST YOU WILL TASTE TE WE'LL JUST HAVE TO HOLD OUT UNTIL ZEROICHI AND HASHIMA GET HERE . TRY THEIR COM MUNICA TORS . THEY'VE ALREADY TAKEN OVER ALL LINES OF COMMUNI CATION . IT'S NO USE . THESE TERRORISTS SURE TOOK THE LONG WAY AROUND TO KILL ME THIS MAY BE FOR RE VENGE , BUT ... 1 I REFUSE TO DRAG YOU DOWN . IF YOU LEAVE ME BEHIND , YOU CAN GET AWAY FROM HERE . TSU KUMO . - ?! I CAN'T DO THAT , HIBIKI ! YOU'LL BE GET OUT AND CALL FOR HELP THEIR GOAL IS PROBABLY TO ISOLATE ME . HAA ...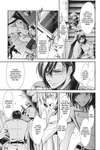 Page 4 Transcriptions
I ALWAYS KNEW THIS DAY WOULD COME . ALL THIS MEANS ... IS THAT IT'S FINALLY ARRIVED I'D RATHER DIE HERE THAN DO THAT . I BROUGHT THIS UPON MYSELF HMPH ! BESIDES , IF YOU DIED , WHAT WOULD BE COME OF HASHIMA ?! You . WHAT DO YOU KNOW ABOUT US ?! HAVING YOU PRO TECT HIM IN THIS WAY ... WHAT ARE YOU TALKING NO LIFE ABOUT ? SHOULD BE THROWN AWAY ! HOW FATALISTIC IS THIS GUY ?! WON'T MAKE HIM HAPPY ! 4444 CAN'T ... HUFF ...