Page 2 Transcriptions
SINCE HE WAS ALSO SHARING INFORMATION THROUGH A SYSTEMATIC ELECTRONIC BRAIN THANKS TO NANO MACHINES , HE ALWAYS JUST MANAGED TO GIVE US THE SLIP SHOTO WAS THE HEAD OF AN ANTI GOVERNMENT TERRORIST ORGANIZATION THAT HAS MANAGED TO ELUDE OUR INVESTIGATION NETWORK FOR YEARS . HE'S BEEN A TOUGH ONE TO GO AFTER HIBIKI AND HASHIMA REALLY DID QUITE WELL . TO TURN THAT METHOD AROUND ON HIM AND TRAP HIM WITH CONFLICTING INFORMATION AND QUICK USE OF FORCE ... IT'S NO USE ASKING YOU TO NOT BE RIVALS BUT AT LEAST GET ALONG WITH THEM YOU MUST UNDERSTAND HANGERS ARE RIVALS ALL GOING FOR THE SAME REWARD MONEY TO DE CREASE THEIR SENTENCES THEY'RE BOTH VYING FOR FIRST PLACE IN SQUAD 4 WHEN IT COMES TO NUMBER OF ARRESTS . THEY'RE A REAL POWER COUPLE . COME NOW , TSUKUMO . IT WAS JUST A MATTER OF HIBIKI'S IN TELLIGENCE NETWORK BEING FAST ER THAN THE CALL I PUT IN TO YOU I'M SORRY , COM WE MANDER GOT THE ONUKITA . INFORMA TION , BUT WE WERE NO HELP AT ALL . YES , SIR .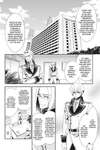 Page 3 Transcriptions
DRAG IT'S NO PROBLEM , HASHIMA I MIGHTVE BUSTED SOME OF HIS ORGANS . MIS SION COM PLETE . AS LONG AS HE'S TECH NICALLY ALIVE ... RIVALS ... THEY'RE ALL ... HUH . JUST A PAIN IN THE ASS . I DONT KNOW HOW WELL WELL GET ALONG SURE , THEY'RE IMPRES SIVE GUYS , BUT ... H HUH ?! OUR JOB HAS A MUCH MORE SEVERE SIDE TO IT THAN A ROOKIE LIKE YOU CAN IMAGINE . LV BUT THE HARDEST JOB BY FAR FOR A KEEPER IS TO " UNDERSTAND HIS HANGER N - NO , NOT AT ALL ! ACK ! WITHIN THE CRIMINAL WORLD , THERE ARE THOSE WHO PUT HEFTY BOUNTIES ON HANGERS ' HEADS . THE TRUTH OF THE MATTER IS THAT MANY DIE ON THE JOB . OH YOU'RE MY , MAKING TSL A FACE KU LIKE , " MO . DON'T WANT TO GET ALONG WITH THEM . "