Page 1 Transcriptions
ILLUSIMATION FROM TAROT OF THE WOLVES Episode 6 : The Werewolf . Boy XVIII The Moon " The Moon ( Werewolf ) : This card represents fear of hidden danger . It may also hint at being deceived by yourself or others , misinterpreting the truth , wildness , savagery or aimless wandering .

Page 2 Transcriptions
WHAT'RE YOU READING ? RAPUNZEC WHY WOULD YOU WANT TO READ A CHILDREN'S STORY ? RAPUNZEL .

Page 3 Transcriptions
FOR EXAMPLE , SNOW WHITE FORCES HER EVIL STEPMOTHER TO WEAR A PAIR OF HOT IRON SHOES UNTIL SHE DIES . Irra SOMETIMES CHILDREN'S BOOKS CAN BE SURPRISING . AND BLUEBEARD KILLS ALL HIS WIVES AND KEEPS THEM IN A ROOM . " RAPUNZEL " IS STRANGE STORY , TOO . WHAT KIND OF PARENTS TRADE THEIR DAUGHTER FOR A HEAD OF CABBAGE ? WHAT'S SO STRANGE ABOUT THAT ? WHEN PEOPLE ARE AT THE END OF THEIR ROPE , THEY'LL EVEN SELL OFF THEIR CHILDREN .

Page 4 Transcriptions
I DON'T LIKE TALKING ABOUT THIS STUFF . OD C - 1 ? I'M SORRY , BUT WE'RE CLOSED .

Page 5 Transcriptions
TCGI

Page 6 Transcriptions
ACH ! 크 와 !! 크왁 !!

Page 7 Transcriptions
STOP IT ! YOU'LL KILL HIM ! I SAID STOP IT !

Page 8 Transcriptions
BUT HE TRIED TO KILL YOU ! IF THIS COULD KILL ME , I WOULD HAVE DIED LONG AGO . LOOK ... THE MONSTER ...

Page 9 Transcriptions
SER

Page 10 Transcriptions
0 YOU DON'T REMEMBER ATTACKING ME ?! WHAT'S YOUR NAME ? AARON ... AARON GAWAIN . WHERE ... WHERE AM 12 WHO ARE YOU PEOPLE ?! I REMEMBER COMING HERE TO SEE SOMEONE NAMED PAMELA . I WOULD HAVE BEEN HERE BEFORE THE MOON CAME OUT , BUT I GOT LOST ON THE WAY .

Page 11 Transcriptions
SO YOU CAME TO THE RIGHT PLACE AFTER ALL YOU WERE ABANDONED BY SOMEONE VERY CLOSE TO YOU . * Ten of Swords : This card represents a terrible misfortune , but one that may turn around once rock bottom is hit . It may also signify worry and anxiety , disappointment , and feeling powerless . LIKE ONE OF YOUR PARENTS . IT MUST HAVE HURT YOU DEEPLY . MY MOTHER DIED WHEN I WAS A CHILD , SO I LIVED ALONE WITH MY FATHER . HE WAS AN ALCOHOLIC . TENOF SWORDS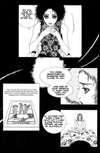 Page 12 Transcriptions
HE SPENT ALL THE MONEY ON ALCOHOL AND LEFT NONE TO BUY FOOD OF YOUR LITU eeeeeeeeeeeeeee HE DRANK AND BEAT ME ÁLMOST EVERY DAY WHEN I TURNED 16 , A STRANGER CAME TO VISIT US . I'LL GIVE YOU ENOUGH MONEY TO GET DRUNK FOR THE REST IN RETURN , MUST GIVE ME YOUR SON . CESELECCESE сеееееееееееееееее Mapa

Page 13 Transcriptions
MY FATHER RECEIVED A HUGE SUM OF MONEY , AND THEN HE LEFT ME ALONE IN THE MIDDLE OF A STRANGE FOREST . WALK

Page 14 Transcriptions
WOMEN WERE DANCING AROUND IN CIRCLES ... I FELT LIKE I WAS ON BALPURSKI MOUNTAIN TWALK

Page 15 Transcriptions
SMALL vanreen . TL

Page 16 Transcriptions

Page 17 Transcriptions
MASTER , PLEASE ... I - I JUST ... पर

Page 18 Transcriptions
LLLLLLL IPWALIK WE

Page 19 Transcriptions
DON'T COME ANY CHU CLOSER . MWALK lassen MY NAME IS NEBIROS . I'VE BEEN WAITING FOR YOU . WELCOME TO MY CASTLE

Page 20 Transcriptions
" King of Wands : This card hints at a powerful , natural leader , a person with a commanding presence who is mature , wise , sympathetic and educated . It may also signify a courageous father figure HMM . HE DOESN'T APPEAR TO BE A BAD PERSON . HE'S A GENTLEMAN AND A DEVOTED FATHER FIGURE TO YOU . KING OF RODS YES , HE WAS VERY KIND TO ME . LIKE A FATHER TO A SON . THE CASTLE WAS SURROUNDED BY A STRANGE , DARK FORCE . I WAS FRIGHTENED BY IT . IT WAS IMPOSSIBLE FOR ME TO LEAVE BECAUSE IT WAS ALWAYS CIRCLING THE PLACE

Page 21 Transcriptions
THAT WAS DELICIOUS ! WOW , IT'S GETTING DARK ALREADY . THE DAYS ARE REALLY SHORT HERE .

Page 22 Transcriptions
HOW DID YOU GET THIS SCAR ? NIN MY FATHER HIT ME WITH A BROKEN BOTTLE WHEN I WAS LITTLE .

Page 23 Transcriptions
THOSE WOLVES ... THEY SEEM TO ALWAYS BE GUARDING THIS PLACE . ARE THEY TRYING TO KEEP ME FROM RUNNING AWAY ?

Page 24 Transcriptions
YES . AND I CANNOT PROTECT YOU FROM THEM IF YOU TAKE EVEN A STEP OUTSIDE YOU'RE MINE . ALL ... ALL RIGHT ! JUST LET ME BREATHE WHY DID YOU CHOOSE ME ? NO REASON . THE HEART CANNOT BE EXPLAINED , RIGHT ?

Page 25 Transcriptions
WHAT DOES THAT MEAN ? THE HEART CANNOT BE EXPLAINED ? WHAT CAN I POSSIBLY MEAN TO SUCH A PERFECT MAN ?

Page 26 Transcriptions
mal MUA HATTON For HALLBUEN TROT иш , X The Wheel of Fortune The Wheel of Fortune : This card represents the unpredictable turn of life events ; destiny . It signifies unexpected change , new choices , and a new environment . It may also hint at motivation and energy

Page 27 Transcriptions
HMM ... YOU BEGAN TO FEEL SOMETHING FOR HIM ... YOU GOT TO KNOW HIM A LITTLE BETTER . ACE OF SWORDS TO TELL YOU THE TRUTH , I WASN'T ALL THAT INTERESTED IN HIM . I THOUGHT OF MYSELF AS A SLAVE SOLD INTO BONDAGE . JUST CONSIDERED MYSELF LUCKY TO BE ALIVE . Ace of Swords : This card signifies a triumph of a powerful force such as love or hatred , finding the strength to overcome . It may also indicate a birth of great meaning or applying logic and reason . TWO MONTHS WENT BY UNEVENTFULLY AAAACHHHH !

Page 28 Transcriptions
AAAAACHHHH ! ARRR .. ᎫᎫ

Page 29 Transcriptions
NEBIROS ? Las HIS HAIR IT'S TURNED BLOND ! URRRRRR ! AARON ?

Page 30 Transcriptions
WHAT'S WRONG ? ARE YOU HURT ?

Page 31 Transcriptions
KRRAAA ! WHAT'S THE MATTER ? TELL ME WHERE YOU'RE HURTING ! AAAACHHHHH ! I WAS CURSED FOR DISOBEYING GOD .

Page 32 Transcriptions
I NO LONGER HAVE TO PRAISE THE ALMIGHTY , BUT I MUST SUFFER ALONE IN DARKNESS EVERY NIGHT . I HAVE STAYED IN THIS CASTLE FOR AN ETERNITY WITH ONLY MY LONELINESS AND THOSE DEMONS AS MY COMPANY PROMISE ME ... PROMISE ME THAT YOU'LL NEVER LEAVE THIS PLACE WITHOUT MY PERMISSION THAT YOU'LL NEVER BETRAY ME . I'M HERE NOW . I'LL ALWAYS BE BY YOUR SIDE .

Page 33 Transcriptions
PROMISE .. * Four of Swords : This card represents regret , recovery , and quietly preparing for the future . It also hints at listening to your inner voice and reviewing where you are in life . DD FOUR OF SWORDS

Page 34 Transcriptions
HE WAS LONELY , LIKE A CORPSE IN A COFFIN . THAT'S WHY HE MADE YOU PROMISE TO STAY . HE LOOKED STRONG OUTSIDE , BUT INSIDE , HE WAS VERY LONELY SHALL WE LOOK AT THE NEXT CARD ? * Three of Cups : This card represents the outcome of perfect happiness , uniting with others , working together and experiencing camaraderie . THE TWO OF YOU LOOKED VERY HAPPY TOGETHER . BUT HAPPINESS CANNOT LAST FOREVER ... THREEOF CUPS

Page 35 Transcriptions
THE TIME I SPENT WITH HIM WAS THE HAPPIEST OF MY LIFE . OTHER THAN INSISTING I STAY IN THE CASTLE HE MADE NO DEMANDS ON ME . HE GAVE ME EVERYTHING I ASKED FOR , THE REAL ONES HAVE A YELLOW BAND AROUND THE TOP . THESE ARE FAKE , SEE ? I HOPE YOU DIDN'T PAY TOO MUCH FOR THEM . THREE HUNDRED DOLLARS ... YOU WERE TOTALLY RIPPED OFF .

Page 36 Transcriptions
L ... I'M GOING TO THROW UP . WOO - HOO ! ISN'T THIS FUNZ is

Page 37 Transcriptions
BUT THENSEE BEGANITO FEEL STIFLED . I HAD EVERYTHING WANTED , BUT I FELT LIKE A CAGED BIRDI WANTED TO GO OUTSIDE SE I WAS A KID , STILL INTERESTED IN GIRLS , ROLLERBLADING ) COMIC BOOKS , SNEAKERS AND ... MY DAD ... I KNOW HE WAS A DRUNK WHO SOLD HIS OWN SON INTO SLAVERY , BUT I STILL WANTED TO KNOW WHAT HE WAS UP TO . I'M GOING AWAY FOR A COUPLE OF WEEKS : REMEMBER WHAT I TOLD YOU - DON'T LEAVE THE CASTLE NEBIROS , CAN'T I GO SEE MY FATHER ? JUST FOR A LITTLE WHILE ? I WANT TO KNOW HOW HE'S DOING .

Page 38 Transcriptions
NO ! * Eight of Swords : This card represents feeling trapped , confused , and powerless ; waiting for outside rescue . EIGA TOF SWORDS

Page 39 Transcriptions
HMM ... JUST AS I EXPECTED . THE MIND IS CONFUSED AND WROUGHT WITH TEMPTATION WHEN IT SEEKS THE TRUTH ABOUT SOMETHING . YOU'RE RIGHT . I SHOULD HAVE ASKED HIM WHY HE WOULDN'T LET ME GO HOME . IT WAS JUST A DAY OR TWO AFTER NEBIROS LEFT

Page 40 Transcriptions
2014

Page 41 Transcriptions
ASESIN WASSEN Gebe Ger ARE ... ARE YOU HUMAN ? I LIVE IN THE VILLAGE DOWN THE ROAD . SOMETIMES I COME HERE TO LET MY SHEEP GRAZE .

Page 42 Transcriptions
WHO ARE YOU ? AARON ... AARON GAWAIN . YOU KNOW , IT'S NOT EXACTLY AROUND HERE ... OH , IT'S FINE DURING THE DAY SAFE

Page 43 Transcriptions
* Eight of Wands : This card represents putting one's plans into action ; preparing to move on . It also signifies finding a resolution and discovering the truth . It may indicate haste in one's actions and the arrow of love . CIGAT OF ROBS YOU WERE ATTRACTED TO HER , BUT SHE THREW YOU INTO CONFUSION . IT LOOKS LIKE YOU GOT CLOSE TOO QUICKLY . YES . SHE WAS THE ONLY ONE I COULD TALK TO . SHE WAS VERY PRETTY . WE WERE THE SAME AGE AND WE COULD TALK ABOUT ANYTHING . SHE WOULD VISIT ME EVERY DAY AND TELL ME STORIES ABOUT THE OUTSIDE WORLD . THEN ONE DAY ...

Page 44 Transcriptions
WHY DON'T YOU RUN AWAY WITH ME ? WHAT ? LET'S RUN AWAY TOGETHER ! BUT ... UNLESS YOU WANT TO STAY HERE UNTIL YOU WITHER UP AND DIE ...

Page 45 Transcriptions
PROMISE ME ... THAT YOU'LL NEVER BETRAY ME DIDN'T YOU SAY THAT HE'S COMING BACK TOMORROW ? WHEN HE DOES , YOU'LL HAVE LOST YOUR CHANCE TO GET OUT OF HERE . AND HE WON'T LET YOU SEE ME ANYMORE . COME ON , LET'S DO IT ! LET'S RUN AWAY TOGETHER !

Page 46 Transcriptions
OKAY .. LET'S DO IT . SO YOU DECIDED TO BETRAY NEBIROS ? CAFE TARAI

Page 47 Transcriptions
THIS IS ... LET'S TAKE A LOOK AT THE NEXT CARD . The Moon : This card represents the acceptance of a false picture , entertaining unusual thoughts , and feeling bewildered . It may also hint at unexpected danger and a risky situation involving loved ones .

Page 48 Transcriptions
YOUR VILLAGE MUST BE FAR AWAY . WE'VE BEEN WALKING ALL DAY AND THERE'S STILL NO SIGN OF IT . HOW MUCH FARTHER ?

Page 49 Transcriptions
ILLUSTRATION FROM HALLOWEEN TAROT AM WM MU Eight of Ghosts • Eight of Ghosts : This card represents discarding what one has gained and growing from failed love .

Page 50 Transcriptions

Page 51 Transcriptions
ANT 요 SA

Page 52 Transcriptions
YOU IDIOT ! YOU WALKED RIGHT INTO MY TRAP . YOU LIED TO ME ! YOU'RE NOT HUMAN ! BUT ... BUT WHY ? THE MASTER WAS GOOD TO US BEFORE YOU CAME AROUND . THEN HE LOST ALL INTEREST IN US ! I WAITED FOR THE MASTER'S ABSENCE JUST FOR A CHANCE TO KILL YOU ! YOU DISOBEYED THE MASTER , ANYWAY , SO IT WON'T BE A PROBLEM IF I GET RID OF YOU ...

Page 53 Transcriptions
I WONDER ... ... WHAT YOUR MEAT TASTES LIKE ! ANARTAIN W A A !

Page 54 Transcriptions
AAAAAA ! WAST BEING PUNISHED FOR BETRAYING NEBIROS ? OK OG internete

Page 55 Transcriptions
DIDN'T I TELL YOU ... ... TO LEAVE THIS BOY ALONE ?!

Page 56 Transcriptions
MA - MASTER ! WHAT ARE YOU DOING BACK SO SOON ? TANTE

Page 57 Transcriptions
AM I DREAMING ? Sasa That

Page 58 Transcriptions
YOU'RE NO DIFFERENT FROM OTHER HUMANS AFTER ALL I CAME BACK EARLY BECAUSE A STRANGE FEELING CAME OVER ME ... THIS IS NO DREAM ! NEBIROS ! YOU MUST HAVE REALLY WANTED TO GET AWAY FROM ME .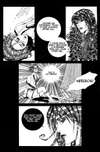 Page 59 Transcriptions
NE NEBIROS ... I JUST ... EXCUSES . WHEN I FIRST SAW YOU , I FELT A WARM FEELING INSIDE . A GLOW THAT MELTED MY COLD HEART . BUT I. SEE NOW THAT GOD WAS JUST PUNISHING ME AGAIN . MY HEART WILL STAY HARDENED NOW . ETERNAL WINTER WILL REIGN INSIDE ME FOREVER .

Page 60 Transcriptions
I AM SETTING YOU FREE , JUST AS YOU WISH . NEBIROS ! BUT THE CURSE THAT'S JUST ( BEFALLEN YOU ... IT'S YOURS TO UNDO . I WILL NO LONGER MEDDLE WITH YOUR LIFE . PLEASE ! JUST GIVE ME ONE MORE CHANCE !

Page 61 Transcriptions
PLEASE DON'T LEAVE ME .

Page 62 Transcriptions
YOU'RE THE ONE WHO LEFT AARON . NEBIROS !!!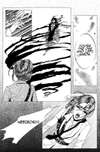 Page 63 Transcriptions
* Three of Swords : Right side up , this card represents heartbreak , loneliness and betrayal . Upside down , it represents disharmony , alienation , confusion and chaos . THRCCSSWORDS I GET CONFUSED WHENEVER I SEE THIS CARD ... YOU LEFT PAINFUL WOUNDS IN EACH OTHER'S HEARTS SO YOU AND NEBIROS ENDED UP PARTING AFTER ALL . LET'S SEE WHAT THE LAST CARD SAYS .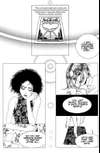 Page 64 Transcriptions
* Five of Cups : Right - side up , this card hints at incurring loss in the process of acquiring something else . It may also signify feeling sorrow and regret . Upside - down ; it signifies a return of hope or a new love returning , a new alliance . IT DOES NO GOOD TO REGRET THE PAST ... YET REGRET REMAINS JUST THE SAME . I FINALLY FOUND OUT WHY NEBIROS DIDN'T WANT ME TO GO HOME . FIVE 2F CUPS MY FATHER DIED ON THE STREET SHORTLY AFTER HE SOLD ME ... HE WAS DRUNK . Se LONCA 31 NIO 2 I WENT BACK TO NEBIROS CASTLE BUT ...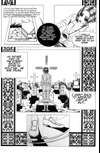 Page 65 Transcriptions
... EVERYTHING HAD DISAPPEARED . IT WAS AS IF IT NEVER EXISTED . DO YOU KNOW WHAT HAPPENS WHEN SOMEONE'S BITTEN BY A WEREWOLF ?

Page 66 Transcriptions
WHEN THE FULL MOONS RISES TO TURN INTO A WOLF AND KILL PEOPLE . BUT I AM NOTES AWARE OF MYSELF WHEN IT HAPPENS , AND I CAN NEVER * REMEMBER ANYTHING AFTERWARD CAFE TAROT THEY SAID YOU MIGHT BE ABLE TO HELP ME UNDO THIS CURSE . AND FIND NEBIROS AS WELL . SOMEONE SUGGESTED I FIND YOU . BUT , I ... WOULD YOU : CONSIDER HE'S JUST LIKE BELUS . I CAN'T READ INTO HIS WORKING FUTURE ... HERE AT THE CAFE WITH ME ?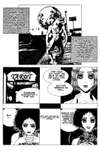 Page 67 Transcriptions
WHAT ARE YOU TALKING ABOUT ? I TOLD YOU TO STAY OUT WHEN I'M SEEING CUSTOMERS ! PAY NO ATTENTION TO HIM AARON ... LOOK , YOU MAY BE ABLE TO LEARN SOMETHING ABOUT YOURSELF BY WORKING HERE . I HAVE A LOT OF SPECIAL GUESTS THAT MAY BE ABLE TO HELP YOU . YOU'RE WELCOME TO SLEEP HERE TOO , IF YOU HAVE NOWHERE ELSE TO GO . ARE ... ARE YOU SERIOUS ? WOULD THAT REALLY BE OKAY ? Oi
Page 68 Transcriptions
PAMELA ! ARE YOU CRAZY ? THAT BOY TURNS INTO A WEREWOLF EVERY TIME A FULL MOON RISES ! I'VE BEEN THINKING OF HIRING PART - TIME HELP , ANYWAY . WHAT I DO IS MY OWN BUSINESS , THANK YOU . BY THE WAY ... NEBIROS ... I HAVE A STRONG SENSE THAT HE'S SOMEHOW CONNECTED TO YOU , BELUS . ARE YOU SURE YOU DON'T KNOW ANYTHING ABOUT HIM ? I'M ABSOLUTELY POSITIVE .

Page 69 Transcriptions
Bli WELL . YOU'RE PART OF THE FAMILY NOW . TAKE THE ROOM UPSTAIRS AND I'LL BUY YOU WHATEVER YOU NEED TO GET SETTLED IN . THANK YOU !! OH , BY THE WAY ... * :

Page 70 Transcriptions
NEBIROS GAVE THIS TO ME . BUT I THINK YOU'LL NEED IT MORE THAN I. HMM .. THANK YOU . వారిలో SO I STARTED WORKING AT THE CAFÉ WITH PAMELA . I HOPE TO UNDO THIS CURSE AND SOMEDAY MEET NEBROS ONCE AGAIN . Orlalaa THERE IS A LOT I WANT TO SAY TO HIM WHEN I SEE HIM . ാജു BUT THAT'S A SECRET ...

Page 71 Transcriptions
YOU HAVEN'T CHANGED A BIT AFTER ALL THIS TIME . STILL STUPID AND FRUSTRATING AS HELL . TRY TO REMEMBER WHO YOU ARE . YOU WON'T MIND IF I PLAY WITH HIM FOR A BIT , THEN ? SO YOU ENJOY LOCKING YOURSELF IN THIS DARK ROOM AND PLAYING HIDE - AND - SEEK WITH THAT BOY ?

Page 72 Transcriptions
GET OUT OF MY SIGHT . TAKE CARE THEN . I'LL BE BACK ... WHEN I GET BORED .