Page 1 Transcriptions
HOWDEO Taroles 2 OOO Thes SANG - SUN PARK MOTORS
Page 2 Transcriptions

Page 3 Transcriptions
0 THE FOOL

Page 4 Transcriptions
རོལ་ དུ Pamela

Page 5 Transcriptions

Page 6 Transcriptions
JUSTICE LA JUSTICE VIII DIE GERECHTIGKEIT LA JUSTICIA Justice . This card may hut at balanse , filmess , Justice , honesty Jusufestism and respect for mutual las ILLUSTRATION FROM SECRET TAROT Episode 5 : A Heardless Princess , an Alchemist and a Jester ( Part 2 ) LA GIUSTIZIA

Page 7 Transcriptions
Hierophant ( the Pope ) : This card represents someone who disassociates himself from secular concerns . It could also signify a possibility for marriage or alliance , or seeking a deeper meaning , feeling loyalty towards others . YOU'RE TRAPPED IN OLD NOTIONS . HIEROPHARE YOU DRAW THE LINE AND TELL YOURSELF THAT CERTAIN THINGS CAN NEVER BE . IN ANCIENT MYTHOLOGY THERE WAS A SCULPTOR NAMED PYGMALION . PERHAPS YOU'RE RIGHT . HE WAS SO IN LOVE WITH THE BEAUTIFUL SCULPTURE HE CARVED , THAT HE ASKED GOD TO MAKE HER HUMAN . HIS WISH WAS GRANTED AND HE LIVED HAPPILY AFTER WITH HER . FVER

Page 8 Transcriptions
YOU SHOULD KNOW WHY , SHOULDN'T YOU ? LET'S LOOK AT THE NEXT CARD . Ten of Swords : This card represents a terrible misfortune , but one that may turn around once rock bottom is hit . It may also signify worry and anxiety , disappointment and feeling powerless . WHY ARE YOU TELLING ME THIS ? SOMETHING HAPPENED THAT MADE YOU COME HERE . TENOR SWORDS I DIDN'T KNOW SHE COULD BE SO CRUEL .

Page 9 Transcriptions
PRINCESS , LOOK HERE ! THIS IS BORING JUST AS I EXPECTED .
Page 10 Transcriptions
HMM ... YOU'RE BETTER

Page 11 Transcriptions
HMM , I'M ALL OUT OF HYDROCHLORIC ACID . I'LL GET SOME MORE FROM THE BASEMENT .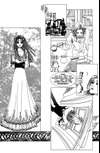 Page 12 Transcriptions

Page 13 Transcriptions
WHO ... WHO DID THIS TO YOU ?! YOU TOLD ME TO DO EVERYTHING IN MY POWER TO MAKE THE PRINCESS HAPPY . I CAN'T DO ANYTHING RIGHT , MASTER .

Page 14 Transcriptions
SO , WHAT HAPPENED TO HIS SEVERED LEG ? I CREATED HIM , SO I COULD ALSO FIX HIM . IT WASN'T THAT HARD . THE PAIN MUST HAVE BEEN UNBEARABLE FOR HIM THOUGH I DIDN'T THINK DOLLS COULD FEEL PAIN . HE'S DIFFERENT FROM OTHER DOLLS I'VE MADE . I DON'T KNOW WHY . REALLY ? LET'S LOOK AT ANOTHER CARD .

Page 15 Transcriptions
Seven of Cups : This card signifies having an active imagination and many dreams and hopes for the future ; it also means lacking the ability to put thoughts into action . THIS CARD MEANS THAT YOU DON'T REALLY KNOW WHAT YOU'RE FEELING YOU'VE BEEN LYING TO YOURSELF ... AND TO OTHERS . SE VCNOCUPS ASR ana NO , NO . I DON'T DECEIVE ANYONE LEAST OF ALL MYSELF EMOTION AND REASON SOMETIMES DISAGREE .

Page 16 Transcriptions
SHALL WE LOOK ? • The Devil : The card hints at a lack of humanity . It may also signify a focus on material gain to the detriment of others , or being tied down against your will ; enslaved . THIS CARD HINTS TO A PERSON WHO'S A SLAVE OF SOMEONE OR SOMETHING IT COULD BE REFERRING TO YOU , THE PRINCESS OR THE JESTER ... OR PERHAPS ALL THREE OF YOU . BUT ONLY YOU CAN UNLOCK THE SHACKLĖS . WHAT SHOULD I DO ? DO WHAT YOUR HEART TELLS YOU .

Page 17 Transcriptions
I THINK I KNOW WHAT YOU MEAN . THANK YOU FOR YOUR ADVICE . MAY I ASK YOU ONE MORE THING ? O THIS BEAD IS FROM BERIAL'S NECKLACE . WHY DO YOU HAVE THIS BEAD ?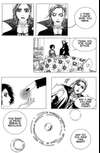 Page 18 Transcriptions
SO YOU CAN DIE . I SEE . GOODBYE .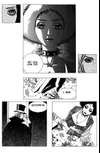 Page 19 Transcriptions
DO WHAT YOUR HEART TELLS YOU . DO WHAT MY HEART TELLS ME ... CH IN THIS CHEMICAL IS DANGEROUS ... IT SHOULD STAY UP HERE .

Page 20 Transcriptions
WHERE IS THE JESTER ? SWE WERE IN THE MIDDLE OF A VERY SINTERESTING GAME BUT GUESS HE WASNIT ENJOYING3HIMSELF SO MUCH HERE MASTER ! ARE THE FLOWERS YOU ASKED FOR . GWYNETH ... WELL : LOOK AT THAT ! YOUR LEG IS ALL FIXED NOW !

Page 21 Transcriptions
LET'S GO BACK TO MY ROOM AND FINISH OUR LITTLE GAME . THIS TIME I'LL CUT OFF YOUR HEAD . OUCH ! MASTER ! PLEASE SAVE ME !

Page 22 Transcriptions
YOU WIN . I WILL LET YOU GO . FORGET THAT . YOU GAVE THIS JESTER TO ME AS A GIFT . IT'S MINE TO DO WITH AS I PLEASE . LET THE JESTER GO . I'LL MAKE YOU ANOTHER DOLL .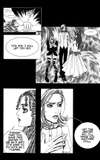 Page 23 Transcriptions
I DON'T WANT ANOTHER DOLL . I LIKE THIS ONE . COME ON , LET'S NOT BOTHER HIM ANYMORE ... PRINCESS GWYNETH ! MASTER ! SAVE ME !

Page 24 Transcriptions
I DON'T WANT TO DIE ...

Page 25 Transcriptions
THAT'S ENOUGH ! A GRAB !

Page 26 Transcriptions
ААААН ! ААААА !!

Page 27 Transcriptions
CAFE TAROT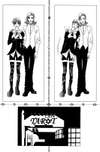 Page 28 Transcriptions
I'M SO GLAD TO SEE THEM HAPPY WHAT DO YOU THINK HAPPENED TO THE PRINCESS AFTER THAT ? THOSE WHO HAVE EVERYTHING DON'T KNOW WHAT IT'S LIKE TO SUFFER . PERHAPS THAT MEANS THEY HAVE NO HEART .

Page 29 Transcriptions
NOW THE PRINCESS HAS AN OUTSIDE THAT MATCHES HER INSIDE FIVEOFPENTACLES Five of Pentacles : This card represents lacking what one needs . It may also hint at ill health , poverty and rejection .