Page 1 Transcriptions
3 VI 2 ILLUSTRATION FROM VAMPIRE TAROT The Lovers The Lovers : Right side up , this card represents the meeting of the same minds . Lovers hesitate before making an important decision . Beauty , youth , and faith in someone else's intuition and decision - making power affect the course of a certain event . Upside down , this card represents an unpleasant meeting . It signifies temptation , betrayal , duplicity and jealousy , as well as difficult decisions , internal struggle , enslavement and and unfulfilled desire

Page 2 Transcriptions
TRIU

Page 3 Transcriptions
- ela FASHION MODE I'LL TAKE THAT ONE , PLEASE . IT'S REALLY FOGGY TODAY , HUH ? HMMM ... WHO'S THIS GUY ? VAO YEAH . LOOKS LIKE IT'D BE EASY TO CATCH A COLD , SO BE CAREFUL . THAT'S CALIC CEPESU .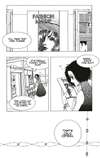 Page 4 Transcriptions
HE'S ONE OF THE HOTTEST MODELS IN THE WORLD . HE'S BEEN ON A MILLION MAGAZINE COVERS . IT'S OBVIOUS THAT YOU LIKE HIM . WELL , HE IS PRETTY HOT . YEAH , HE'S HOT ... BUT HE'S ALSO BLIND . HE'S A VAMPIRE , TOO . SO WHAT ? MANA 60
Page 5 Transcriptions
SA SOME ARE HUMAN WITH SUPERHUMAN ABILITIES : OTHERS ARE SUPERNATURAL BEINGS WHO LIVE IN THE HUMAN WORLD . ? 6 Sublest OC SOMETIMES UNUSUAL CUSTOMERS COME THROUGH MY DOOR . 61

Page 6 Transcriptions
ARE YOU PAMELA ? M M YES . AND YOU ARE ... ? CALIC CEPESU ? !

Page 7 Transcriptions
Seven of Swords : This card represents secret plans , hidden dishonor , frustration and the possibility of failure . I DON'T KNOW WHAT YOU'RE PLANNING ON DOING , BUT YOU MUST THINK CAREFULLY BEFORE MAKING ANY DECISION . THERE'S A CHANCE YOU WILL BE BETRAYED OR DECEIVED . SEVENS SWORDS I DON'T REMEMBER VERY MUCH . IT'S BEEN A LONG TIME SINCE I BECAME A VAMPIRE SHEDDING TEARS FOR LOVE IS AS PAINFUL AS BEING STABBED IN THE HEART ... MY MEMORY SEEMS TO BEGIN ON THE DAY I MET HER . Three of Swords : This card represents betrayal , abandonment , rejection , separation , and a reversal of fortune . 63

Page 8 Transcriptions
Episode 2 : Everlasting Beauty DOLL AT THE TIME , PARIS WAS A DECADENT AND DEPRAVED CITY NATURALLY , IT WAS A PLACE THAT APPEALED TO VAMPIRES . LIGHT AND DARKNESS ... AHH ... EXTRAVAGANCE CORRUPTION ... AND HMMM ... 64

Page 9 Transcriptions
YOUR WRISTS ARE SO CREAMY AND SOFT . I'M TEMPTED TO EAT THEM ... AHH ... HMMM ... DO AS YOU WISH .

Page 10 Transcriptions
ААААН ... А AHAA HAAAH ... . А. ада ААААААН ... . AAAAACK ! 66

Page 11 Transcriptions
A KINGDOM - OF DARKNESS BUILT UPON DEPRAVITY AND EXCESS . !! FI LIVED THERE THIRSTING FOR HUMAN BLOOD EVERYDAY lo या ... AND HATED MYSELF FOR IT . 67

Page 12 Transcriptions
LA LA LA ... THERE ARE RULES THAT EVERY VAMPIRE MUST OBEY . ONE : NEVERS DRINK A DEAD PERSON'S BLOOD . TWO NEVER " ALLOW W YOURSELF TO DEVELOP FEELINGS FOR A HUMAN BEING 68

Page 13 Transcriptions

Page 14 Transcriptions
AS SOON AS I LAID MY EYES ON HER , ALL MY REASON AND SANITY DISAPPEARED . ONLY MÝ FEELINGS FOR HER REMAINED .

Page 15 Transcriptions
The Star : This card represents inspiration , a feeling of wanting to give back , hope at the end of the tunnel , and serenity during times of upheaval . SHE TAUGHT YOU ABOUT HOPE AND THE HUMANITY YOU THOUGHT YOU'D LOST FOREVER . ISABEL ... SHE LOOKED LIKE A BEAUTIFUL DOLL .

Page 16 Transcriptions
BUT ... 72

Page 17 Transcriptions
的 多 多 NT 0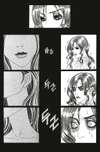 Page 18 Transcriptions
YOU'RE SO PALE . WHAT'S WRONG ? CALIC ... ? ! Ez

Page 19 Transcriptions
WE SHOULD PROBABLY BE GOING . LET'S MOVE ! BUT WE'RE ALREADY HERE . IS THIS WHAT HAPPENS WHEN YOU BREAK THE RULES ?

Page 20 Transcriptions
Ten of Rods : This card represents being pressured to succeed , or achievement that turns into a toilsome burden . It signifies that one needs to lighten his load . IT WAS HARD FOR ME TO KILL ANYONE AFTER I MET HER . TENER RODS YOU WERE TORN BETWEEN YOUR LOVE FOR HER AND YOUR TRUE NATURE . BUT I COULDN'T TOTALLY FREE MYSELF FROM MY OWN NATURE . HAHAHA 1 34.55 76

Page 21 Transcriptions
EEEEEEEE 77

Page 22 Transcriptions
es PLEASE ... PLEASE ! JUST DON'T KILL ME ! TO PLEASE LET , DO WHATEVER YOU WANT . 78

Page 23 Transcriptions
79

Page 24 Transcriptions
80

Page 25 Transcriptions
King of Swords : Right side up , this card signifies tireless struggle and certainty - someone who is just and ethical and can make decisions quickly without hesitating . Upside down , it represents cruelty , treachery , pain and a battle that cannot be won . King of Swords

Page 26 Transcriptions
Judgment : This card represents having a day of reckoning : seeing thing in a new light ; knowing what you must do ; and atonement for past mistakes . CIFE TAROT HIS JUDGEMENT KILLING THAT GIRL GREATLY AFFECTED YOUR RELATIONSHIP WITH ISABEL DIDN'T IT ? YES . I MADE A HUGE MISTAKE SHE WAS ISABEL'S SISTER . 82
Page 27 Transcriptions
ECHI KUD NICHCIES RIJLKONI NEW JERSEY SSG ce LENG UPS EN WORLD WAR II ELDCH 83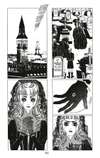 Page 28 Transcriptions
I HA ISABEL ... CALIC ! SOMEONE MURDERED MY SISTER ! 84

Page 29 Transcriptions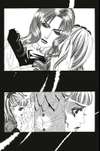 Page 30 Transcriptions
HE a WHAT'S WRONG ? DOES THIS BUTTON BELONG TO YOU ? 86

Page 31 Transcriptions
ONE JUST LIKE IT WAS FOUND CLUTCHED IN MY SISTER'S HAND ... AND IT'S AN UNUSUAL BUTTON . IT'S NOT ONE YOU SEE EVERY DAY . ISABEL ... TELL ME YOU HAD NOTHING TO DO WITH IT ! LES 87

Page 32 Transcriptions
ISABEL ... I'M SO SORRY . I ... PLEASE ! TELL ME IT'S NOT TRUE !

Page 33 Transcriptions
I DIDN'T KNOW SHE WAS YOUR SISTER . I ... I HAVE ALWAYS SUSPECTED THAT YOU WEREN'T HUMAN ... ... BUT I LOVED YOU ANYWAY . 89

Page 34 Transcriptions
ISABEL ! YOU MURDERER !! ISABEL , I BEG OF YOU ! PLEASE WAIT ! 90

Page 35 Transcriptions
STAY AWAY FROM ME ! ISABEL , PLEASE irre 91

Page 36 Transcriptions
I CURSE YOU FOREVER ! LISTEN TO ME , PLEASE ! I HAVE SOMETHING TO TELL YOU . I TRUSTED YOU ... 92
Page 37 Transcriptions
ACK ! ISABEL ! 93

Page 38 Transcriptions
성 해 ALIA ) ISABEL , GRAB ONTO MY HAND ! 94

Page 39 Transcriptions
es

Page 40 Transcriptions
مسلم 96

Page 41 Transcriptions
ISABEL !! NOOO !!!

Page 42 Transcriptions
Five of Cups : This card represents the possibility of a loss and its associated emotions sor THE LAST THING I SAW BEFORE LOSING MY SIGHT WAS HER ... LYING ON THE GROUND ... PIVOP CUPS OUR RELATIONSHIP ENDED IN HER DEATH . YOU CAN'T TURN BACK TIME , NO MATTER HOW MUCH YOU REGRET WHAT HAPPENED . I WAS PERMANENTLY BLINDED WHEN THE SUNLIGHT HIT MY EYES . NEW MARKER RAADSBEAR I KNOW IT'S STRANGE , BUT I FELT AS THOUGH SHE STILL EXISTED SOMEWHERE IN THE WORLD LE 98

Page 43 Transcriptions
I BECAME A MODEL SO THAT I COULD TRAVEL THE GLOBE LOOKING FOR HER . BEING BLIND DOESN'T STOP ME , EITHER . VAMPIRES POSSESS AN EXTRAORDINARY SENSE OF SMELL HEARING AND TOUCH- THOUSANDS OF TIMES MORE ACUTE THAN A HUMAN'S . MOST PEOPLE DON'T EVEN REALIZE I'M BLIND 99

Page 44 Transcriptions
IT WAS EASY TO FIND PREY I DIDN'T HAVE TO HUNT -- I JUST WAITED LIKE A SPIDER ON ITS WEB 100

Page 45 Transcriptions
PLEASE ! LET ME GO ! Avis DON'T BE AFRAID . YOU WON'T FEEL ANY PAIN . 101

Page 46 Transcriptions
" Four of Cups : This card signifies being self - absorbed and unaware of f others ' feelings ; it may also mean one's desire to change . SELF - HATE AND DESPAIR DOMINATED YOUR LIFE ONCE YOU LOST HER . FOER BF CEIPS SINCE THEN , YOU'VE LIVED AN EMPTY LIFE , DREAMING OF MEETING HER ONCE AGAIN . MW SIXT CUP Six of Cups : This card signifies experiencing good will enjoying Innocence , and focusing on childhood . WHAT'S THIS ? A MEETING WITH SOMEONE FROM THE PAST ? IT CAN'T BE ... 102

Page 47 Transcriptions
VAMPIRES LOVE RED ROSES . PERHAPS THE COLOR RED REMINDS US OF BLOOD ? I BUY ROSES FROM TIME TO TIME . YOU DON'T SEE THEM OFTEN ON CITY STREETS . DO YOU LIKE ROSES ? Ats EWOO 103

Page 48 Transcriptions
SOULS CLASHING ... IT WAS HER . HER VOICE HER SMELL THE WAY SHE SPOKE ... THEY WERE ALL DIFFERENT BUT I WAS SURE IT WAS ISABEL 104

Page 49 Transcriptions
XVIII 19 chis card signifies hidden enemies , danger , deception , and than when upright . sUpside down . It represents terror The Moon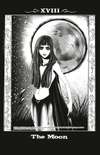 Page 50 Transcriptions
YOU WERE IN MY DREAMS EVERY NIGHT . SO I FOLLOWED YOU HERE . AN Ceeceer wa madawaaa . ecce nece B5998 BBT

Page 51 Transcriptions
YOUR WISH CAME TRUE THEN ! LET'S SEE WHAT THE CARDS HAVE TO SAY . FIVERE A CONFLICT BETWEEN LOVE AND LIFE ... Five of Rods : This card represents a fierce struggle to acquire material wealth as well as validation from other people . It may also signify competition and rivalry . ONE DAY SHE SAID SOMETHING THAT SURPRISED ME . 107

Page 52 Transcriptions
WHY THE SAD FACE ? I WANT TO BE A VAMPIRE LIKE YOU . I WANT TO FORGET THE PAST AND LIVE FOREVER BY YOUR SIDE .

Page 53 Transcriptions
O O THERE'S NO WAY ! I REFUSE TO LET YOU SUFFER AS I HAVE ! WHEN SHE SAID SHE WANTED TO BECOME A VAMPIRE , I FELT WORSE PAIN THAN I'VE FELT IN THREE HUNDRED YEARS . YOU'VE EXPERIENCED PAIN LIKE THAT BEFORE , RIGHT ? SHALL WE LOOK AT THE NEXT CARD ? 109

Page 54 Transcriptions
• Wheel of Fortune : This card represents an unexpected turn in life or the beginning of good karma . It may also signify bad fortune or an unwanted turn of events . IS SOMETHING THE MATTER ? WHEEL FORTUNE NO ... NOTHING . I CAN'T READ THIS CARD CORRECTLY UNTIL I TAKE A LOOK AT THE NEXT ONE . HERE GOES ... IT'S THE TWO OF CUPS , SEE ? IT SIGNIFIES PASSION AND LOVE ALREADY IN PROGRESS . WELL ... ? YOU GUYS WILL LIVE HAPPILY EVER AFTER . Two of Cups : This card represents passion and love already in progress , making a connection , calling a truce , and acknowledging an attraction .

Page 55 Transcriptions
THANK YOU ! GOODBYE , PAMELA . WAIT A MINUTE- WHAT ABOUT MY FEE ?

Page 56 Transcriptions
I'VE BEEN WAITING FOR YOU . ISABEL ?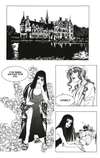 Page 57 Transcriptions
SUD IT WASN'T EASY . HERE , LET'S TOAST ! I MADE IT ESPECIALLY FOR YOU . HOW DID YOU GET IT ? TO US AND TO OUR LOVE- BOTH OF WHICH HAVE STOOD THE TEST OF TIME ...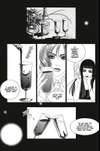 Page 58 Transcriptions
114

Page 59 Transcriptions
115

Page 60 Transcriptions
TE

Page 61 Transcriptions
117

Page 62 Transcriptions
I WANT TO KNOW WHY ... ..YOU HATE ME SO MUCH THAT YOU WOULD WANT TO KILL ME . SO , YOU KNEW , THEN ? THAT THE BLOOD I GAVE YOU TO DRINK WAS FROM A DEAD PERSON ? I LEARNED THAT IN ORDER TO KILL A VAMPIRE , I'D HAVE TO RIGHT E SOMEONE WHO HAD DIED . 118

Page 63 Transcriptions
REMEMBER THE GIRL YOU KILLED AT A FASHION SHOW FOUR MONTHS AGO ? WELL ... ... MAYBE YOU DON'T REMEMBER HER . YOU'VE KILLED SO MANY PEOPLE , AFTER ALL SHE WAS MY SISTER , CALIC ! 119

Page 64 Transcriptions
OH ... BOO HOO HOO HOO ... A PAST LIFE ? ME ? I DON'T REMEMBER ANYTHING LIKE THAT ! I JUST LIED SO I COULD ТАКЕ МУ REVENGE ON YOU !

Page 65 Transcriptions
DC 副 STOP ! DON'T COME ANY CLOSER ! 爭 學 自从 、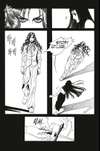 Page 66 Transcriptions
YOU REALLY THINK YOU CAN KILL ME WITH THIS ? I'D LIKE TO SEE YOU TRY ! YOU'RE NOT THE ONLY ONE WHO LIED , YOU KNOW . LOVE YOU ? YOU'RE A LITTLE BUG CAUGHT IN MY WEB ... JUST LIKE YOUR SISTER ! HA ! I JUST LIED SO I COULD SEDUCE YOU .

Page 67 Transcriptions
STAY AWAY FROM ME ! AKAT anth

Page 68 Transcriptions

Page 69 Transcriptions
I GUESS IT'S BETTER TO DIE IN THE ARMS OF A LOVED ONE THAN TO WATCH SOMEONE YOU LOVE DIE A HORRIBLE DEATH . IT'S TIME FOR US TO PART NOW , ISABEL . TIN

Page 70 Transcriptions
* GOODBYE , MY LITTLE ANGEL ... لا مصر في اے تماس با ما I TOLD ANOTHER LIE ... اگ له کی I DID REMEMBER ... I DID .

Page 71 Transcriptions
I REMEMBER EVERY SECOND WE SPENT REMEMBER IT LIKE IT WAS YESTERDAY I ALSO REMEMBER HOW MUCH I LOVED YOU ... NEWSBLAST SUPER STARK MISSING NEWSBLAST SUPER STARY CUA WHY DID YOU LIE TO HIM , PAMELA ? Five of Swords : This card represents shame , disgrace and loss . 127

Page 72 Transcriptions
THIS WAS REALLY THE OTHER CARD , WASN'T IT ? HE KNEW WHAT WAS GOING TO HAPPEN TO HIM . I DIDN'T THINK IT WAS NECESSARY TO RUB IT IN HIS FACE . SD I SEE . SO YOU'RE SAYING THAT IT WAS A WHITE LIE . WHY DO YOU THINK HE CHOSE DEATH ? FATE IS SIMPLY A WHEEL IN MOTION EVEN THOUGH CALIC AND ISABEL WERE DEEPLY IN LOVE , THEY WERE CAUGHT IN A CYCLE OF BAD KARMA . HE CHOSE TO PUT AN END TO THAT KARMA . FOR HER SAKE ... 128