Page 1 Transcriptions
NO ... I DON'T . YOU MISUNDERSTOOD ... HEY , RELAX . I'M NOT YOUR TEACHER . AND

Page 2 Transcriptions
JUST TAKE ME AS THE NPC IN GAMES YOUR TEACHER AND I ARE FRIENDS SINCE KINDERGARTEN ~ HEY , RELAX . I'M NOT YOUR TEACHER . AND I'M ON YOUR SIDE !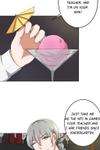 Page 3 Transcriptions
I CAN TELL YOU ALL HIS HISTORY , HIS TYPES AND EVERYTHING . I WANT ALL OF THEM !