Page 1 Transcriptions
This game is called Secret Burger, and the rules are very simple.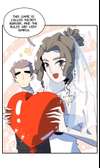 Page 2 Transcriptions
Two people are not allowed to use their limbs, and they can only use their body to pop the balloon. Pop it's like a primary school New Year party game. I think I can do it. okay.
Page 3 Transcriptions
we're actually supposed to tease candy, but she shifted the attention onto her boss and colleague! wow! this woman is so shameless... well then... sir, let's begin. okay. but...

Page 4 Transcriptions