Page 1 Transcriptions
Officer! You caught the wrong person! Serve the people Although Xuxu has a weird temper... Fights, has tattoos, drinks, and is rebellious...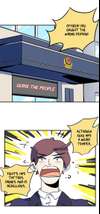 Page 3 Transcriptions
Sir, please calm down! The victim is still in a coma. When the victim wakes up and if what you're saying is true, she'll be released.