Page 1 Transcriptions
Ring~~ Do you have any plans after work? Not really. I'll probably catch up with celebrity updates~ We're getting off work~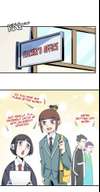 Page 2 Transcriptions
Wait a minute, everyone! The holiday starts tomorrow... Shall we have dinner together tonight? My treat! Sounds good! Count me in! Um... should we invite Mr. Liu? He was quite disappointed when we left him out last time...

Page 3 Transcriptions
It's not that we don't want to invite him. it's just that... He's preparing to be the instructor for the primary school national olympiad right now! He's having private tuition with Jiudao Yi. stare

Page 4 Transcriptions
Evil Boy! ALL ON!