Page 1 Transcriptions
Daodao, be good on your first day of school here! Okay. You must pay attention in class! Okay.

Page 2 Transcriptions
zzz zzz ZZZ isn't it a bit too much to sleep in our homeroom teacher's class... ......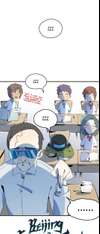 Page 3 Transcriptions
01 Transfer student JiuDao Yi, sleeping on your first day of school? Ah, sorry. The content is really boring, so I became sleepy......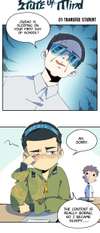 Page 4 Transcriptions
thump thump What? thump Great! Solve this problem then! thump thump What's the area of the shaded portion?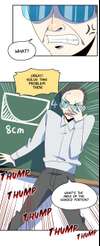 Page 5 Transcriptions
Amazing...... CREAKー Semi-circle Semi-circle
Page 6 Transcriptions
What about now? Can you still calculate the area of the shaded portion? easy.

Page 7 Transcriptions
Teacher, am I correct? Ah... yes...... Nonsense! The shadows in my heart is infinite!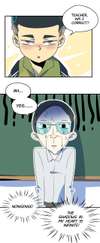 Page 8 Transcriptions
02 listen carefully Makes sense Jiudao Yi, even if you learned this before, you still have to pay attention in class. Your parents spend money to send you to school. What if the teacher makes a mistake? Okay.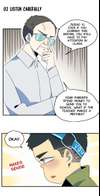 Page 9 Transcriptions
Are you closing your eyes to meditate? This brat! Forget it, there is no need to be angry with a child. Let's continue the class. Anyway, the final answer of this question is 666. stares

Page 10 Transcriptions
What's going on? Why do I feel a sudden chill up my spine?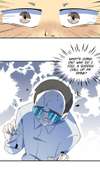 Page 11 Transcriptions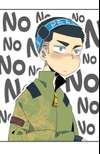 Page 12 Transcriptions
Ehhh? Did I calculate the answer wrongly? N-No. I made a mistake just now. it should be 66.6! stares it's still wrong?! impossible! shouldn't his eyes be bleeding from staring so hard?! I figured it out! It's 2333!

Page 13 Transcriptions
...... Yes. 26 Years Old Math Teacher I'm just a pitiful, young and bald man. What did I do wrong in my past life?

Page 14 Transcriptions
03 Nightmare Grey clouds in the A sudden crash branches sway. Lightning is getting louder and louder. Afterwards, Daodao would sleep in every class. However, regardless of the subject, when a teacher made a mistake... splash, splash Literature Watch, the rolling tides of the Yellow River leap from the heavens, crashing towards the sea never to recur... He would open his eyes habitually. stares ped the branches.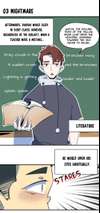 Page 15 Transcriptions
the subject followed by... Return! Never to return! there must be a be verb after the subject... English stares
Page 16 Transcriptions
Linking verb! It was a slip of tongue!

Page 17 Transcriptions
stares I was wrong, green should be added here! stares stares Art I was wrong! I'll punish myself with three laps! Physical Education I was wrong! Please give me another chance! Music

Page 18 Transcriptions
stares it even got to the point where the principal had Daodao sit next to him to supervise the class and assess the teachers. ...... Oh? Did he make a mistake here?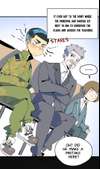 Page 19 Transcriptions
For a while, Daodao became a nightmare to the every teacher in the entire office...... What's wrong? Aren't you going to class? I'm afraid... the next period is the evil kid, JiuDao Yi's class......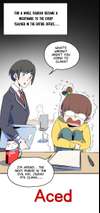 Page 20 Transcriptions
04 insomnia Later on, as long as someone made a mistake, they would be met with a death stare. The focus of marketing is controversy, so is gimmick the way to go?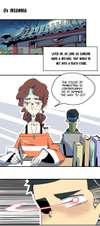 Page 21 Transcriptions
swoosh ー stares Waahhh! But every theory has two sides! This is the inevitable drawback of event marketing! stares

Page 22 Transcriptions
I know I was half a beat too quick...... I'll do it again hahahaha...... stares

Page 23 Transcriptions
tap phew......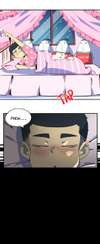 Page 24 Transcriptions
I was wrong, honey! I won't be in contact with Wang anymore!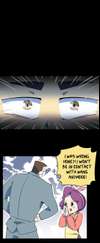 Page 25 Transcriptions
I was wrong! I should be under the car, not in the car! I was wrong! It's used for respiration at night! Not for photosynthesis!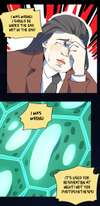 Page 26 Transcriptions
I was wrong! its rotation is three milliseconds faster! From then on, Daodao bid farewell to sleep forever.

Page 27 Transcriptions