Page 1 Transcriptions
tsk. ...Maybe he never had the intent to create this dream... As long as I figure out the breakthrough, I'll be able to end this dream safely.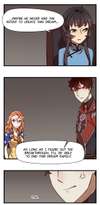 Page 2 Transcriptions
Anyway, it's either end of the war or you You might as well follow this and try it out. This fairy clearly doesn't want to cooperate at all. Could it be that the prince of heaven just has a good temper or does he have another motive? I don't have a clue about whatever breakthrough. On the other hand, you just mentioned that using our abilities is an issue of rank? Then why are you always using such high-level magic... isn't the use of high-level magic just a difference between rank? If you're not satisfied, then use it too.