Page 1 Transcriptions
Editor: LeLe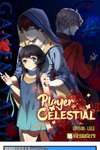 Page 2 Transcriptions
How many times do I have to repeat myself? Dimensional Point I don't have the ability to enter dreams, I'm just an ordinary pet!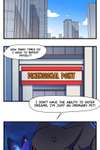 Page 3 Transcriptions
Your answer remains the same, regardless of how many times we ask. We have to find our lord to release this seal. It's so uncomfortable, let me go right now! Who are you guys and why did you suddenly appear?!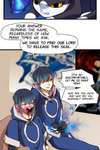 Page 4 Transcriptions
This cat is really annoying, don't you have any idea on who we are? We're servants of Lord Ali! We're also very anxious when we suddenly can't contact our lord. Jump right here Jump?? You guys are only worried for him in speech!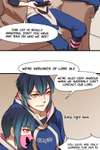 Page 5 Transcriptions
You guys are only worried for him in speech! What the f*ck, how did I die? I told you to jump but you didn't, now it's my turn! You Died You've been playing this for hours, aren't you guys bored! What can we do? It's better than sitting here blankly.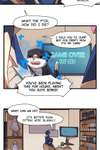 Page 6 Transcriptions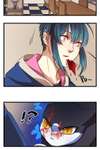 Page 7 Transcriptions
What's wrong!? F*ck! So sudden! Covering my face with blood?? ...Master is We might have to go to the cafe immediately, Xiao Chun.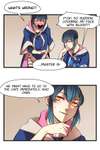 Page 8 Transcriptions
Master seems to have vanished...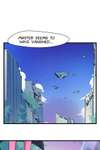 Page 9 Transcriptions
I'm a celestial who exists to solve the troubles caused in a dream. That light is a sign that someone in this dream is suffering.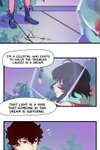 Page 10 Transcriptions
Your friend is indeed having a nightmare right now, I want to help him. You don't have to trust me, But you should know him better than I do, why don't you come with me to have a look?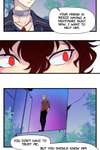 Page 11 Transcriptions
But you should know him better than I do, why don't you come with me to have a look? Hey are you listening?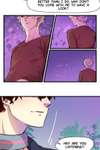 Page 12 Transcriptions
Finite (Release) You've finally understood! You're not threatening anyway.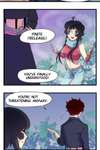 Page 13 Transcriptions
Let's go and have a look.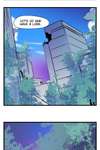 Page 14 Transcriptions
From here onwards, the area forward will be on new maps. Whoosh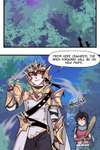 Page 15 Transcriptions
I know the principles, But why are you furiously changing your clothes...... Whoosh 一 Whoosh 一 Of course it's because I look good in everything! Do you need to ask? Whoosh 一 An equipment set that you deserve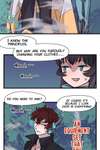 Page 16 Transcriptions
An equipment set that you deserve Although the original hat was a god level equipment, it was too uncomfortable to wear, I'm proficient in all jobs and professions anyways, I just want to change into other outfits! Players all around the world should like changing their equipment! You can't really stop once you've started changing. Whoosh 一 He's an unexpected ret*rd......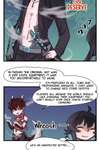 Page 17 Transcriptions
The location of that purple light is still that far away, how long are we suppose to continue walking? I'm so tired... Hey dark magic practitioner, do you know any shortcuts? You should be an expert in this game right? Whoosh 一
Page 18 Transcriptions
Hey! If you continue changing the author is going to be sucked dry! Whoosh 一 Is he so useless? I'll pick a comfortable one then...... This little distance, We'll be able to get there immediately with a flying mount or something.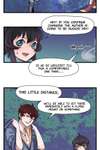 Page 19 Transcriptions
Is that so? Dark Master, you're really powerful. Quickly take me there now! Take you there? You're really dreaming now. I did agree to follow you and have a look, but aren't you misunderstanding something. Why should I help you?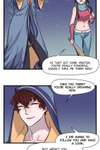 Page 20 Transcriptions
but aren't you misunderstanding something. Why should I help you? Can't you just...... Lv.?? Poignant Spirit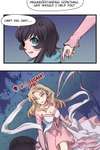 Page 21 Transcriptions
...That scared me, but she's really beautiful... This is also a nightmare projection, it's actually in the form of a human. Xiao...... Xiao, Xiao, Xiao Xia??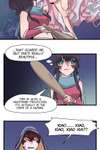 Page 22 Transcriptions
Ali......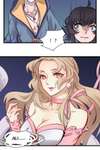 Page 23 Transcriptions
This is not a monster in this game at all! This person is Xiao Pang's ex-girlfriend! Stop scaring me you bast*rd! We forced our way into this dream, it's impossible for anyone else to enter the dream! No, no, no, it's not human, could Xiao Pang had known from the start? It was you who took away......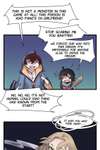 Page 24 Transcriptions
-- Give me back -- Everything that had belonged to me -- I already...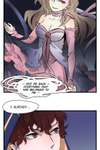 Page 25 Transcriptions
killed this woman.