Page 1 Transcriptions
Warren ELLIS TREES Jason HOWARD THREE FA LES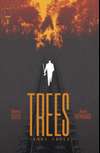 Page 2 Transcriptions
ELEVEN YEARS AGO TOSKA , RUSSIA Fuck you , Klara ! Fuck you ! I hate you ! For Christ's sake ! Get back in here ! Sasha ! What the hell is wrong with you ?
Page 3 Transcriptions
YOU ! YOU'RE what's wrong with me ! How am I supposed to think when all you do is pick at every little fucking thing I do ? Oh ! I'M what's wrong with you ? I'll remember that the next time I have to mop your piss off my fucking floor ! You won't have to worry about your precious fucking floors any more . I'm off . . Not yet you're not Stay right there .