Page 2 Transcriptions
SING IT AGAIN " THE TOWN I LEFT WAS FILLED WITH DEAD , AND EVERYWHERE THESE QUEER RED FLIES CRAWLED UPON THE CORPSES ' EYES , EATING THEM AWAY . " " any Zzzzzzzzz DO YA THINK IT'S TRUE ? DRUCILLA'S WIPIN ' OUT WHOLE VILLAGES WHEN SOMEONE GETS A CASE O THE SNIFFLESZ SHE MURDERED HER FATHER AND FOUGHT A WAR AGAINST HER TWIN BROTHER AFTER THAT YOU GOTTA THINK THERE'S NOTHING SHE WOULDN'T DO SO WHA'S THE PLAN , WILL ? YOU TAKE THE RIGHT , I TAKE THE LEFT , AN ' WE MEET IN THE MIDDLE ?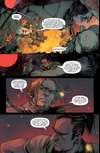 Page 3 Transcriptions
THE PLAN IS WE RESCUE ILA . PERIOD SO YER JUST GONNA LET THEM GET AWAY WITH IT ? THEY MURDER AN ENTIRE VILLAGE OF PEOPLE AND YER GONNA LET THEM SIT THERE LAUGHIN ' AND SINGIN ' ' BOUT IT ?! BJARKE IS TAKING THE MOTHER AND HER SON SOMEWHERE SAFE . WHAT ELSE DO YOU EXPECT ME TO DO : THERE'S ONLY ONE WAY TO STOP DRUCILLA , AND KILLING A FEW SOLDIERS ISN'T GOING TO DO IT . ARE YOU COMING FEL ?