Page 1 Transcriptions
ARMY BARRACKS THESE BANDITS HAVE BECOME QUITE A PROBLEM . WE CANNOT GET RID OF THEM IN THIS SHORT AMOUNT OF TIME . WE WILL HAVE TO DEVISE A PLAN .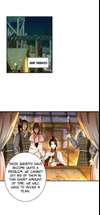 Page 2 Transcriptions
GENERAL , THE HEAD OF THE BANDITS IS DESPICABLE . RECENTLY HE HAS TAKEN MANY WOMEN FROM THEIR VILLAGES . MY SISTER ... HAS BEEN TAKEN AS WELL ! HM ? WHY ARE THEY TAKING WOMEN ? DO NOT WORRY . I WILL TAKE CARE OF IT .

Page 3 Transcriptions
I HEARD IT WAS BECAUSE THE HEAD BANDIT IS LOOKING FOR A WIFE . HIS VASSALS ARE CHOOSING THE BRIDE FOR HIM . HOW RUTHLESS OF THEM ! THEY MIGHT BE DOING THIS ON PURPOSE TO PISS US OFF , THINKING THAT WE WILL LOSE OUR CALM .