Page 1 Transcriptions
АНЕМ , FINE . IN ORDER TO PREVENT MY GOOD 20 INDULGING IN SENSUALITY IN THE MANSION , GENERAL FROM THIS IS EXACTLY WHAT I WANTED ~ Jea !!! Ding ! FROM NOW ON , YOU'LL GO TO THE MARTIAL ARTS FIELD TO PRACTICE MARTIAL ARTS EVERY DAY AND MUST NOT SLACK OFF . its I COMPLY WITH YOUR ORDER . PLAN SUCCEEDED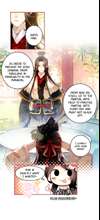 Page 2 Transcriptions
O NOW THAT YOU MENTION IT .... OJ stare THE EMPEROR ISN'T IN A GOOD MOOD TODAY . HE MUST HAVE WOKEN UP FROM THE WRONG SIDE OF THE BED TODAY .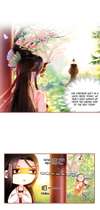 Page 3 Transcriptions
066apac 我 呼 ~ Huff ~ shiver shiver ~~ 抖 ™ 抖 "

Page 4 Transcriptions
TELL ME , WHAT DID YOU DO BEFORE I CAME OUT ? WE THOUGHT THE EMPEROR WAS A NEWCOMER , SO WE TOLD HIM ABOUT THE MASTER'S LIKING . BOOHOO ... off off off ... 999 Crying 1₁ T Y PARLAME VOD FACE 05.09 . Weeping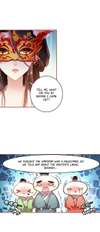 Page 5 Transcriptions
3 of 000 ) and क Oho hahahah HAHAHAHA , YOU DID WELL ! " Q во во IT SEEMS THAT THERE IS NO NEED TO . DISMISS THEM . I'LL KEEP THEM AS SHIELDS AGAINST THE EMPEROR ! MY LIKING ... HAHAHA ! NO WONDER HE WAS IN SUCH A BAD MOOD .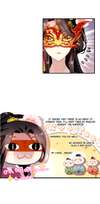 Page 6 Transcriptions
COUGH ! SUMMON ALL OF MY GIGOLOS HERE . 90000 BUT --- THEY HAVE ALWAYS BEEN OBEDIENT . SOMEONE MUST HAVE EGGED THEM ON TO DO SUCH A THING ! ALL , OF , THEM .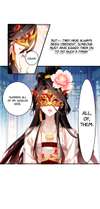 Page 7 Transcriptions
ܠܐ ܪ ܓܘܟ

Page 8 Transcriptions
I CALLED YOU ALL HERE TODAY TO CLARIFY A MATTER . I HAVE A STRANGE DISEASE . MY VOICE HAS CHANGED , AND THE WOUND ON MY FACE ... I HAVEN'T BEEN WELL SO I CAN'T TAKE OFF THE MASK . Le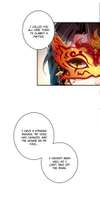 Page 9 Transcriptions
DURING THIS PERIOD , WHATEVER YOU HEAR OR SEE IN THE GENERAL'S MANSION , IN SHORT , WHETHER IT'S MEETING STRANGERS OR HEARING SOMETHING THAT SHOULDN'T BE HEARD , Whispering WHOEVER DARES TO GO OUT AND SPREAD A WORD , I WILL BREAK THEIR LEGS ! YES ! YES ! YES !

Page 10 Transcriptions
O GENERAL , WHY DON'T YOU TAKE THAT MASK OFF AND LET US SEE YOUR TRUE FACE , NO MATTER WHAT GENERAL HAS BECOME ... WHO'S SPEAKING ?! IN OUR HEARTS GENERAL WILL ALWAYS HAVE A VALIANT AND FORMIDABLE APPEARANCE .
Page 11 Transcriptions
W I MUSTN'T LET THEM GET THE GENERAL FIRST ! AFTER WAITING IN THE GENERAL'S MANSION FOR A YEAR , I FINALLY HAD THE OPPORTUNITY TO SHOW MY LOYALTY ! GENERAL , WE WILL NOT DESPISE YOU AFTER YOU ... CHANGE ... CHANGE YOUR APPEARANCE . 15 ww THAT'S RIGHT , GENERAL ! NO MATTER WHAT YOUR APPEARANCE IS , I WILL ALWAYS LOVE YOU ! I WANT THE GENERAL TO KNOW THAT I AM THE MOST PERSISTENT PERSON !

Page 12 Transcriptions
BESIDES , IF SOMEONE HAPPENS TO HAVE A VOICE SIMILAR TO THE GENERAL AND WE RECOGNIZE THAT PERSON BY MISTAKE , IT WOULD BE A BIG PROBLEM ! THIS ISN'T RIGHT ... THAT'S RIGHT ! THAT'S CORRECT THAT'S CORRECT !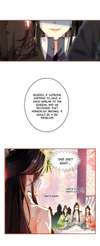 Page 13 Transcriptions
WE ARE LOYAL TO THE GENERAL ! I IMPLORE THE GENERAL TO TAKE OFF HIS MASK AND LET US SEE YOUR REAL FACE ! WELL ... 握紧 Tighten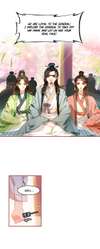 Page 14 Transcriptions
T / n : to make treats and promises VERY WELL ! YOU ALL HAVE LEARNED HOW TO ADOPT A CARROT - STICK APPROACH " , AM I RIGHT ? 咦 ? Eh ? м ALL OF YOU , GET OUT OF HERE AND GO BACK TO WHERE YOU CAME FROM ! WAIT A MINUTE !

Page 15 Transcriptions
YOU --- CAN STAY . THE REST , GET LOST . sha ....