Page 1 Transcriptions
唰 Swoosh LONG LIVE THE EMPEROR .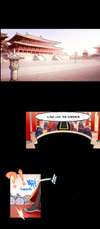 Page 2 Transcriptions
GENERAL JIANG JIUSI PRESENTS BEFORE THE EMPEROR ! JIANG JIUSI ? mmill DID SHE GO TO THE WRONG FILM SET ? 022 HER ART STYLE ISN'T RIGHT ? ISN'T JIANG JIUSI SUPPOSE ... TO LOOK LIKE THIS ? Ho Ho S T u N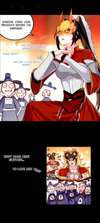 Page 3 Transcriptions
15 I'M GOING TO BE STRAIGHTFORWARD . IS YOUR MAJESTY PLANNING TO KILL ME AFTER ALL I'VE DONE ? ASTA YOU CAN ALL LEAVE FIRST .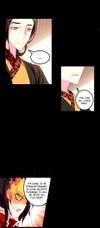 Page 4 Transcriptions
IN YOUR HEART , IS ZHEN * SOMEONE LIKE THAT ? T / n : term used by the emperor to refer himself EMPEROR'S HEART IS UNPREDICT ABLE !
Page 5 Transcriptions
JIANG JIUSI , ZHEN MIGHT AS WELL LET YOU DIE ON THE BATTLEFIELD BEFORE ! WHEN YOU CAME BACK FROM THE BATTLEFIELD THAT YEAR , WHO WAS THE ONE WHO SEARCHED FOR TREASURES AROUND THE WORLD TO SAVE YOUR LIFE ? IF ZHEN KNEW SOONER THAT WHAT YOU SAID WAS YOUR REPAYMENT FOR ZHEN'S EFFORTS , I SHOULDN'T HAVE WASTED SUCH EFFORTS ! 握紧 Clench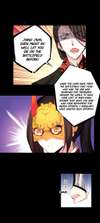 Page 6 Transcriptions
TUT I MARCHED ONTO THE BATTLEFIELD FOR THE COUNTRY , FIGHTING FOR THE CURRENT PEACE . YET , YOUR MAJESTY ORDERED SOMEONE TO CORRECT MY FACE WEAK GIRL . HOW AM TO LOOK LIKE A I GOING TO GO INTO BATTLE AND KILL MY ENEMIES NOW ?! HOW AM I GOING TO EARN RESPECT ?! AH JIANG ...

Page 7 Transcriptions
MY IMPERIAL HAREM WILL ALWAYS BE OPEN FOR YOU . THE POSITION OF THE EMPRESS , ZHEN ALSO KEEP IT FOR YOU . - HOW RIDICULOUS ! NOW THAT THE WORLD IS AT PEACE , MY MIGHTY MING DYNASTY DOESN'T NEED A FEMALE GENERAL TO PUT UP HER LIFE TO DEFEND THE TERRITORY .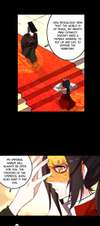 Page 8 Transcriptions
Bam I UNDERSTAND ! 2 98 Chang IS THIS YOUR PURPOSE ? TO HAVE THE JIANG FAMILY WITHIN YOUR GRASP WITHOUT SHEDDING A DROP OF BLOOD ?

Page 9 Transcriptions
IF YOUR MAJESTY BELIEVES IN ME , THEN IN THIS LIFETIME , I'M WILLING NEVER TO MARRY ... OH NO , I'M WRONG ... MARRY OFF MYSELF AND NEVER BEAR A SON ! ... 미리 THUMP !! I'M WILLING TO DIE IN THE BATTLEFIELD . I HOPE THAT YOUR MAJESTY WILL GRANT MY WISH ! 转 Turns around

Page 10 Transcriptions
Gr YOU CAN KEEP THE POSITION OF GENERAL FOR THE TIME BEING . EH ? JIANG JIUSI , REMEMBER THIS . THE PERSON I I WANT IS YOU . Đ ZHEN WILL WAIT FOR YOU UNTIL YOU CHANGE YOUR MIND . I'LL CHANGE YOUR MIND AND HAVE YOU WILLING TO BE MINE . US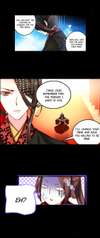 Page 11 Transcriptions
WH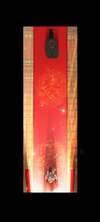 Page 12 Transcriptions
AH JIANG , YOU CAN TAKE YOUR MASK OFF . FORGET ABOUT IT . IT'S NOTHING FANCY .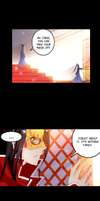 Page 13 Transcriptions
as oca TA Huff SIGH ... SO ANNOYING ! IT'S REALLY ANNOYING !! 8