Page 1 Transcriptions
rustle rustle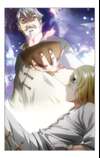 Page 2 Transcriptions
RUST LE RUST LE xxx Fo UNSELL CREAK OREAK HMM ? RUSTLE Bib O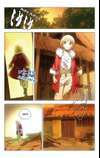 Page 3 Transcriptions
LOOK WHAT DELICIOUS FOOD I MADE FOR YOU . CRACK 酶 CRACK NIAN BING ? COME IN . THUD I'M THE ONLY PERSON LIVING IN THIS HOUSE . NOW THAT YOU ARE HERE , I'M NOT LONELY ANYMORE ... TOO BAD . IT'S A LITTLE COLD ALREADY . LET'S WARM IT UP . EVEN THOUGH IT WON'T TASTE THE EXACT SAME , BUT IT'S CLOSE ENOUGH . LET ME HELP YOU , GRANDPA .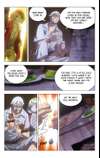 Page 4 Transcriptions
I AM OLD NOW . I SHOULD'VE USED AN OIL LAMP . WHEN I WAS STILL YOUNG ... SIGH ... NOW I CAN'T EVEN LIGHT A MATCH ... PLEASE , RALLY THE BLAZE AND BRING WARMTH TO THIS WORLD . Fwoosh OF PASSIONATE FIRE ELEMENT ... MAGIC ...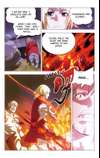 Page 5 Transcriptions
GRANDPA CHA JI , THE FIRE IS ON ... THIS IS FIRE MAGIC . OH MY GOD ! DID YOU SEND THIS CHILD TO ME ON PURPOSE ? THANK YOU , I TRULY THANK YOU , I FINALLY HAVE HOPE . EH !? OH NO ! IT'S EXPOSED ! M GRANDPA , GRANDPA CHA , ARE YOU OK ? CHILD , YOU ARE A FIRE MAGE , AREN'T YOU ? TELL GRANDPA , YOU ARE A FIRE MAGE ! NO , I'M NOT . I , I'M NOT .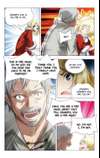 Page 6 Transcriptions
NO , YOU ARE ! YOU'VE ALREADY NOTICED IT BEFORE ? MY CHILD , IT'S OKAY . I MEANT NO HARM . I JUST GOT TOO EXCITED . YOU ARE ALREADY A IMAGE WHEN YOU ARE SO YOUNG . THIS IS GOD'S GRACE TO ME ! CHILD , LISTEN TO ME , OKAY ? LOOK AT MY HANDS .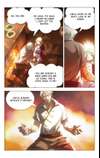 Page 7 Transcriptions
WHAT CAN AN OLD MAN WITH TENDON BROKEN HANDS LIKE ME DO TO YOU ? LISTEN , I'LL TELL YOU A STORY OF WHAT HAPPENED TO ME . GRANDPA , WHAT HAPPENED TO YOUR HANDS ? AFTER THAT , YOU WILL UNDERSTAND WHY I AM SO EXCITED WHEN I SAW YOU USING MAGIC .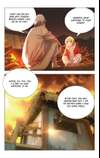 Page 8 Transcriptions
PIRE AFTER THREE HUNDRED YEARS OF WAR , OUR YANGGUANG CONTINENT FINALLY ESTABLISHED FIVE XDE GREAT EMPIRES SEVENTY YEARS AGO . AOLAN EMPIRE LANGMU EMPIRE IN THE PAST FEW DECADES , THERE WERE OCCASIONAL DISPUTES BETWEEN THE FIVE EMPIRES , ARIRE ARONUTE ) BUT THEY WERE STILL AT PEACE I WAS BORN IN QILU EMPIRE IN THE SOUTHEAST OF THE CONTINENT . OUR FAMILY WAS VERY POOR ... MY BIGGEST WISH WAS TO MAKE DELICIOUS DISHES FOR MY PARENTS ... UNFORTUNATELY , WHEN I WAS 13 YEARS OLD , THEY CONTRACTED A DISEASE AND PASSED AWAY . I WAS SENT TO A RESTAURANT TO LEARN HOW TO COOK AFTERWARDS . THAT'S WHERE I MET MY MASTER ...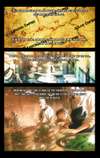 Page 9 Transcriptions
HE TOLD ME THAT IF I WANTED TO BE SUCCESSFUL , DILIGENCE WASN'T ENOUGH . I ALSO NEED UNDERSTANDING ... HE GAVE ME A FEW WORDS : " TEN YEARS FOR PRACTISING COOKING " , " TEN YEARS FOR COMPREHENDING COOKING " . NOW IT'S STILL VIVID IN MY MIND . WHEN I WAS TWENTY THREE , I MASTERED THE CULINARY SKILLS , AND THAT YEAR , MY MASTER PASSED AWAY ... HIS WORDS WERE IMPRINTED IN MY HEAD . I TOOK MY KITCHEN KNIFE AND EMBARKED ON MY JOURNEY . I TRAVELED TO EVERY CORNER OF THE YANGGUANG CONTINENT AND LEARNT EVERY CULINARY SKILL FROM EVERY REGION OF THIS LAND .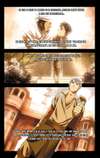 Page 10 Transcriptions
TEN YEARS , THE TEN YEARS THAT REALLY MADE ME REALIZE THE TRUE MEANING OF COOKING . I FINALLY CREATED MY OWN UNIQUE SKILLS IN THE COMPETITION WITH MANY CHEFS . LATER , BECAUSE MY COOKING SKILLS HAVE REACHED THE REALM OF SUPERNATURAL CRAFTSMANSHIP , PEOPLE CALLED ME " DEMON CHEF " . I ALSO ACHIEVED A BRILLIANT RECORD OF FIVE CONSECUTIVE CHAMPIONSHIPS IN THE TOP CHEF COMPETITION IN THIS LAND . AT THAT TIME , THE IMPERIAL PALACE OF THE FIVE GREAT EMPIRES WANTED ME TO BE THEIR MASTER CHEF ... Z IMPERIAL PALACE ! BUT I REFUSED . AT THAT TIME I JUST WANTED TO IMPROVE MY CULINARY SKILLS ... I DEDICATED MY ENTIRE LIFE TO COOKING . AT THE AGE OF FORTY SEVEN , I WAS STILL NOT MARRIED .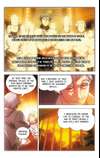 Page 11 Transcriptions
YOU CAN'T IMAGINE IT , CAN YOU ? AN OLD MAN LIKE ME COULD HAVE SUCH A SPLENDID PAST . LATER ... THE YEAR I TURNED FORTY - SEVEN WAS A MAJOR TURNING POINT IN MY LIFE ... WHAT HAPPENED AFTERWARDS , GRANDPA ? 300 THAT YEAR , I FELL IN LOVE WITH A WOMAN ... SLIS SHE WAS SO BEAUTIFUL , LIVELY , AND CHEERFUL . HER EVERY MOVE AND SMILE QUIVERED MY HEART . ## PANTA AT THAT TIME , SHE WAS JUST TWENTY FOUR , AND I WAS ALMOST DOUBLE HER AGE , BUT I JUST FELL FOR HER WITHOUT ANY HESITATION . ##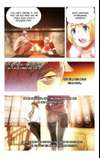 Page 12 Transcriptions
SHE'S ALSO A CHEF , BUT JUST A PASTRY CHEF WHO MAKES SOME LIGHT REFRESHMENTS . AFTER A LONG TIME OF CONSIDERATION , I MADE UP MY MIND AND CONFESSED TO HER EVEN THOUGH I DIDN'T EXPECT HER TO ACCEPT ... SHE DIDN'T SAY YES OR NO TO MY CONFESSION , BUT PUT FORWARD A CONDITION . SHE WANTED TO COMPETE WITH ME IN COOKING . IF I WIN , SHE WILL MARRY ME . IF I LOSE , SHE WILL TAKE ALL MY TITLES , AND I WILL NEED TO LEAVE THE WORLD OF COOKING .