Page 1 Transcriptions

Page 2 Transcriptions
OST 2 WHOOSH NIAN BING , ARE YOU TIRED ? RUST LE RUST LE NO , FATHER , I'M NOT . ARE WE GOING TO SEE MOTHER SOON ?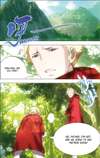 Page 3 Transcriptions
I ... I REALLY MISS MOTHER ...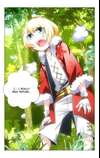 Page 4 Transcriptions
YES , WE'RE ABOUT TO SEE YOUR MOTHER . IT'S BEEN TEN YEARS , YOU'RE ALSO TEN YEARS OLD . FATHER , WHY DON'T THEY LET US SEE MOTHER ? NIAN BING , YOU'RE STILL YOUNG . YOU WILL UNDERSTAND WHEN YOU GROW UP . I CAN PAY WHATEVER IT TAKES FOR YOUR MOTHER , BUT I CAN'T LEAVE YOU BEHIND . THE WORLD'S THIS BIG , YET THERE ISN'T ANY PLACE FOR US TO LIVE IN PEACE OVER THE LAST TEN YEARS ! NO , FATHER , I WANT TO FIND MOTHER WITH YOU ! I WILL SEE YOUR MOTHER THIS TIME NO MATTER WHAT , EVEN IF I HAVE TO RISK MY LIFE ! THEY , HUMPH ! THEY . YOU'RE THIS SMALL . WHEN WE ARRIVE IN THE VILLAGE AHEAD , CAN YOU STAND SOMEWHERE AND WAIT FOR ME ? MOTHER ALREADY LEFT ME . NOW YOU DON'T WANT ME EITHER ?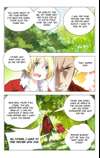 Page 5 Transcriptions
REMEMBER WHEN FATHER TAUGHT YOU HOW TO ACTIVATE THE MAGIC SCROLL ? IT'S OKAY TO COME WITH ME , BUT IF THERE'S ANY DANGER , REMEMBER TO USE THIS SCROLL . IT WILL TAKE YOU TO A SAFE PLACE . IT'S WHERE I DREW A MAGIC FORMATION THE DAY BEFORE . SIGH , IF I HAVE TIME TO TEACH YOU MORE , YOU MAY BECOME THE TOP FIRE MAGE ON THIS CONTINENT . I'LL DEFINITELY BECOME A POWERFUL FIRE MAGE LIKE YOU . I WILL , FATHER . BUT I CAN'T WAIT ANY LONGER . IF WE DON'T REACH THE ICE CITADEL BY TOMORROW , I'LL NEVER SEE YOUR MOTHER AGAIN .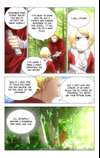 Page 6 Transcriptions
YOUR MOTHER'S AN ICE MAGE , AND I'M A FIRE MAGE ... ICE AND FIRE ARE NEVER COMPATIBLE , SO OUR CHILD CAN ONLY CHOOSE ONE ... THINKING BACK , I FEEL LIKE SHE'S STILL HERE WITH HER WORDS AROUND MY EARS , BUT SHE'S GONE . T YOUR MOTHER ONCE SAID , IF IT WAS A BOY , HE'D LEARN FIRE MAGIC WITH ME , IF IT WAS A GIRL , SHE'D LEARN ICE MAGIC WITH HER . I , FIRE MAGE RONG TIAN , SWEAR TO STOP THE ICE HIGH PRIESTESS'S INHERITANCE CEREMONY , AND GET MY WIFE BACK .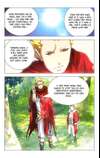 Page 7 Transcriptions
THREE DAYS LATER SIZZLE SIZZLE LOURY CORY BUZZ 12 WHOOSH ( tor ) ) ) TWIST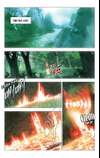 Page 8 Transcriptions
HUFF ! HUFF ! FATHER ! MOTHER ! WHY DID IT TURN OUT LIKE THIS ! CLACK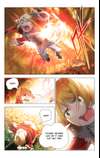 Page 9 Transcriptions
A FIRE - BASED MAGIC FORMATION SCROLL OF TELEPORTATION . UNFORTUNATELY , IT WAS USED BY A CHILD . ITS BREATH WAS LEFT TOO OBVIOUS . By WHOOSH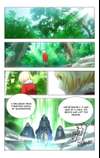 Page 10 Transcriptions
YOU ! BAD GUYS !!! WATER BOMB SPURT WANNA DIE , BRAT ? * BOOM GIVE ME BACK MY MOTHER AND MY FATHER !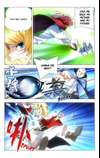 Page 11 Transcriptions
ENOUGH , HE IS JUST A KID . I DON'T WANT HIM TO SUFFER TOO MUCH . YES , LORD ICE - SNOW PRIEST . HAND OVER THE ICE - SNOW GODDESS'S GEM , AND I WILL GIVE YOU A PEACEFUL DEATH . Ba KID , I DIDN'T WANT TO HURT YOU . BUT YOU ARE THEIR CHILD , FOR HOLY ICE TOWER'S HONOR , YOUR EXISTENCE CAN'T BE ALLOWED . HOLY ICE TOWER'S HONOR ? HEH !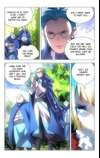 Page 12 Transcriptions
FATHER SAID THE SO - CALLED GLORIOUS HOLY ICE TOWER'S JUST A PILE OF TRASH !! YOU ALL , GO TO HELL !!! YOU WANT THE ICE SNOW GODDESS'S GEM BACK ? ! ? STOP DREAMING , I'M NOT GIVING IT TO YOU EVEN IF I DIE ! SWOOSH MY MOTHER IGAVE IT TO ME BEFORE SHE'S GONE ...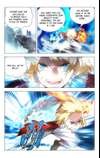 Page 13 Transcriptions
HUH ! BOOM OH , NO !!