Page 1 Transcriptions
2 Don't Touch Me !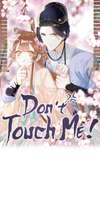 Page 2 Transcriptions
No way, I can't! You know how terrifying Xuan Shen can be! Even Zhi Huo, the commander of the Embroidered-Uniform Guards, said that he was no match for Xuan Shen. Moreover, he has countless subordinates who kill without even beating an eyelid! Not mentioning that I'm way weaker than him, I can't kill him! Of course, you can. That's something only you can do. Stand up Dongchang is impenetrable, it's almost impossible for an outsider to attack them.

Page 3 Transcriptions
But you... You already infiltrated Dongchang, and you're close to Xuan Shen. But... But Xuan Shen is a eunuch, he doesn't let women get close to him. We've been sleeping in separate rooms since our wedding, we're not close. Changning, you may have inherited your mother's beauty, but you're even more pretty than her. Caress

Page 4 Transcriptions
Look, even in sorrow, your face is irresistible, As long as you want it, even Xuan Shen wouldn't be able to resist you. I have no choice in this matter, don't I?

Page 5 Transcriptions
Indeed. Half a bottle of this poison is enough to kill a man. Force open The effects are no different from a cold, and it's incurable. You just need to find an opportunity to put it in Xuan Shen's food. And all your suffering will come to an end. If Xuan Shen doesn't die, then you and your brother will. Your only chance to survive is to help me to remove the rebels by killing the eunuch commander!

Page 6 Transcriptions
I have a request. Speak. When my father died, you took back my six hundred fiefdoms. Now that I'm in Dongchang, I'm dependent on others for my food. How could I help with your plan in such a situation?
Page 7 Transcriptions
So? So, I beg you to give me back my fiefdoms. This way, I could stand a chance against Xuan Shen.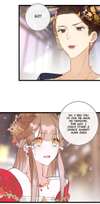 Page 8 Transcriptions
※Fiefdom: The king would give a part of the tax revenue of a certain area to meritorious subjects, so that these people could be fed and clothed. These lands could be inherited. Only a bottomless abyss awaits you if you change your mind. Don't forget, you can't escape. I'll grant your request! Kneel. ...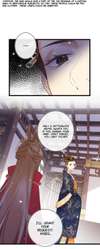 Page 9 Transcriptions
I'll... take my leave. Wipe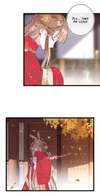 Page 10 Transcriptions
Achieved financial independence I got back my fiefdoms that were confiscated by the Empress Dowager. Now I don't have to worry about food and clothing. Sister! You came back alive! I was so worried!

Page 11 Transcriptions
Sister, have you been crying? It's okay, you crybaby. These few tears I shed earned me a great deal of money. We shouldn't stay here. Let's take a walk and chat.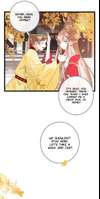 Page 12 Transcriptions
What did you discuss with the Empress?

Page 13 Transcriptions
She wants to kill you?! She gave me a flask of poison.

Page 14 Transcriptions
No, it's even worse than that. She wants me to kill Xuan Shen. Did you agree to this? You can't! No matter what kind of person Xuan Shen is, Vigilant... Not even the Empress or the chief of the Embroidered-Uniform Guards can kill him, so how could you-- Hush! I'm an imperial princess who married into Dongchang. I could be on the Empress' side, or on Dongchang's side. And at the same time, I could be on neither side... I feel like I'm standing on a log above a cliff. The Empress Dowager is holding one end of the log while... Xuan Shen is holding the other end. One misstep, and I'll fall into the abyss. Sister, I don't quite understand the metaphor you used. All you need to know, is that I'm currently struggling, Your Majesty. I don't know about Xuan Shen, but I know that the Empress Dowager has been worried that I would betray her. That's why I came here to cry in front of her.

Page 15 Transcriptions
I don't know about Xuan Shen, but I know that the Empress Dowager has been worried that I would betray her. That's why I came here to cry in front of her. So that she lets her guard down about me. But won't the poison become a problem? Whether you use it or not...

Page 16 Transcriptions
Whether I use it or not is up to me. Even if the Empress Dowager blames me for not using it, I can just say that I haven't had a good opportunity to use it, and she won't be able to complain.

Page 17 Transcriptions
But, Sister, the Empress Dowager and Xuan Shen are not easy to fool. Moreover, you can't live your whole life in-between these two. What I'm looking for is a way to protect myself. Your Majesty should worry more about yourself than me. Sister, behind you... Shen... Shen... Behind me?

Page 18 Transcriptions

Page 19 Transcriptions
He... surely didn't hear that!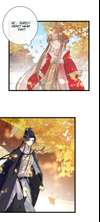 Page 20 Transcriptions
He's... He's coming over here!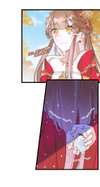 Page 21 Transcriptions
Xuan Shen, greeting Your Majesty. And Your Royal Highness.

Page 22 Transcriptions