Page 1 Transcriptions
Istagra christagracia © 1h 18,201 likes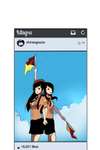 Page 2 Transcriptions
Istagra christagracia 11 h christagracia anyone knows what letter is this ? #girlscout #semaphore view all 504 comments jono O isn't it ? m4leo WWV , uugghh .... I want to pinch you girls ! vino @christagracia I don't know , I just know that you girls are cute yoga @christagracia gimme the rugsaacckk mister - X W right ? kiki @christagracia if I guess it correctly , what will you give me ? pendekar emas @christagracia V ! hiro2356 I never learned semaphore during my scout days back then ...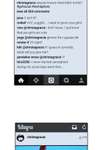 Page 3 Transcriptions
32,201 likes christagracia How about this one ? #pramuka #semaphore view all 721 comments mekomeko DD , Double Damage : D blseeker @mekomeko It ain't no Do_Ta , Dude : v dingdong @christagracia oh , maan . Because of these cute DeDe , I mastered semaphore : p yoga @christagracia BRING ME TE RUCKSAK !! hantu malam @yoga rucksack all the time , dude masochist give me I and U , please . I Love U : v penyu what group are you in ? I'm in Cobra ! pramuk112 I can't wait for scout because of this !!!