Page 1 Transcriptions
NOW DON'T FORGET TO KEEP ME UPDATED WITH AAAAALL THE SORDID DETAILS ! HEHEHE

Page 2 Transcriptions
AS IF I WILL TELL YOU STUFF LIKE THAT ! ALLEN ! DON'T YOU DARE KEEP THINGS FROM ME , BEETCH !

Page 3 Transcriptions
BLING DEAL WITH IT ! I WILL NOT !

Page 4 Transcriptions
M 10:47 Allen 1 New Message

Page 5 Transcriptions

Page 6 Transcriptions
ASKING BY NORIYUU ART - 27

Page 7 Transcriptions
WHO COULD IT BE AT THIS HOUR ?

Page 8 Transcriptions
MMMMMM

Page 9 Transcriptions
C

Page 10 Transcriptions
C

Page 11 Transcriptions
MOLY COW , IT'SHIM !

Page 12 Transcriptions

Page 13 Transcriptions
I WONDER WHY HE'S TEXTING ME THIS LATE ... BADUMP BADUMP BADUMP

Page 14 Transcriptions
LET'S SEE WHAT HE SAID BADUMP BADUMP

Page 15 Transcriptions
Allen Evening . Are you home , yet ?

Page 16 Transcriptions
FLOR HE'S SO FORMAL . IT'S KIND OF FUNNY ! DADUMP BADUMP BADUMP UP Yup ! Just got out of the shower- ! Allen

Page 17 Transcriptions
Dress warmly . It's cold tonight . I've got a heater running , don't worry SO CARING ... ROLL Are you properly dressed ? Allen

Page 18 Transcriptions
Uh - huh . Sweatpants and all . Good ! Good ! DEAR LORD , NOT THE SWEATPANTS .... Il - 11

Page 19 Transcriptions
Allen How was everything at work ? Was fine ! I just had to leave at that time because I had filed a document they needed for a meeting today and no one could find it lol ! FIDGETS Allen I hope it all went well .

Page 20 Transcriptions
It's going well . I showed the scope to my professor and he liked the theme . Raaji It did ! And how is your essay going- ? FIDGETS

Page 21 Transcriptions
Raaji See ?! I told you the idea was interesting ! You did . Thanks ! CLENCH CLENCH CLENCH do

Page 22 Transcriptions
I CAN'T BELIEVE WE'RE CHATTING ... ALLEN ? BADUMP CADUMU BADUMP BADUMP

Page 23 Transcriptions
ALLEN , YOU BITCH ! YOU'RE iGNORING ME AGAIN !

Page 24 Transcriptions

Page 25 Transcriptions
SORRY ! HE REPLIED AND WE STARTED TEXTING ! OH ... IN THAT CASE I'M GOING TO BED ! HAVE FUN AND SEND CUTE NUDES !
Page 26 Transcriptions
MEI , STOP ! 11-17 HIHIHI GOOD NIGHT , DAHLING !

Page 27 Transcriptions
BLING

Page 28 Transcriptions
BLING Raaji So ... Did you text me just to know if I was home > v < ?

Page 29 Transcriptions
TO BE CONTINUED ... * panait corners

Page 30 Transcriptions
* panait corners Great job holding that pose Allen ! 1111 : ... Allen CUT ! Great ! That's it ! ( you co BTS

Page 31 Transcriptions
Favour BTS Favour | IG : @fujo_favour First , this really cute idea Favour had for how things happened in the behind the scenes of the draw this in your style pic ! I'm laughing because this is really how it would have gone lol ! Mei directing everything , probably styling Allen and , obviously , giving the idea of having him with something in his mouth X , D ! Thank you so so much Favour for this lovely drawing , it really brought me joy !
Page 32 Transcriptions
RAAJI ASKING YOU Maytê Acedo IG & Twitter : @ myt__13 And this wonderful bust Maytê did of Raaji ! He looks so incredibly handsome , thank you so much ! And look at all that sparkling glitter around him ! That's definitely his staple every since we first saw him > v < ! Thank you so much for this drawing Maytê ! Raaji looks beautiful and his hair is on fleek !
Page 33 Transcriptions
PATREON ON APOIA.se HUGE THANK YOU TO MY PATRONS ! Without you , this comic wouldn't be possible ! This episode was brought to you by : Meowlayn churrr Pelto Sailor Mars Andy_drws Joshua Caio Yo Otaku_rose Ella Palacios González Hamster crimes Lyria Lavender Kaitlinnn Glamazonian yomi Desiree Dennison Calico365 Luis Garcia Marie C. Brix Jaylen Yarbrough Dango Yoshio jacko Batonzilda Thelittlefox Blaire Hawthorne TAC

Page 34 Transcriptions
Batonzilda Thelittlefox Blaire Hawthorne TAC And thank you for every read , like , comment and share ! You guys motivate me to keep going !

Page 35 Transcriptions
THANK YOU FOR READING ! ASKING BY NORIYUUART SUPPORT ME SOCIAL MEDIAS @NORIYO UKINKY ( +18 ) ( 0 ) @NORIYUUART PATREON.COM/NORIYUUART APOIA.se APOIA.SE/NORIYUUART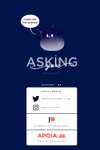 Page 36 Transcriptions