Page 1 Transcriptions
A WORLD RULED BY CATS Story & Art : Jingjian Translation : Han Sheng Chueh Typesetting : Trisha Yucamco Quality Control : Quincy Cho Localization Manager : Hayden Robel Translation Team Lead : Kristianna Lee Typesetting Team Lead : Clarissa Reid Quality Control Team Lead : Jade Law ( 78. )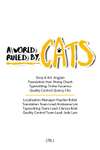 Page 2 Transcriptions
AFTER THE HUMANS REVOLTED , CATS AND HUMANS BOTH COMPROMISED AND SIGNED A 100 - YEAR CONTRACT OF PEACEFUL COEXISTENCE .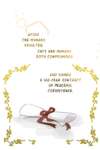 Page 3 Transcriptions
AFTER THAT , CATSRULE FINALLY ENJOYED LONG - TERM PEACE , FIVE YEARS LATER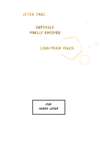 Page 4 Transcriptions
FINANCIAL DISTRICT CHATTER CHATTER I'M EXHAUSTED FROM WORKING OVER TIME ! TAP ТАР . TAP WHY DO I STILL HAVE TO WAIT FOR YOU ?