Page 1 Transcriptions
A WORLD RULED BY CATS Story & Art : Jingjian Translation : Han Sheng Chueh Typesetting : Trisha Yucamco Quality Control : Quincy Cho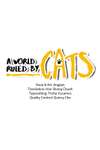 Page 2 Transcriptions
( 60. ) HUMANS ARE WHAT KIND OF RACE ? A RACE THAT LIKES TO LIE , A RACE WITHOUT HONOR , A RACE THAT'LL DO WHATEVER IT TAKES . SO , THE REAL QUESTION IS , DID SHE CHEAT ?
Page 3 Transcriptions
I THINK IT'S HIGHLY LIKELY THAT SHE CHEATED . WE SHOULD INVESTIGATE HOW SHE ACQUIRED HER KNOWLEDGE . IF CHEATING IS SUSPECTED , THEN WE SHOULD WAIT BEFORE MEETING THE DEMAND OF BUILDING A SCHOOL IN THE SOUTHERN AREA . TALK SHOW CHEATING IS A SHAMEFUL ACT , WE WERE SHOCKED TO HEAR ABOUT IT .