Page 1 Transcriptions
A - 016 SO WHAT ARE WE LOOKING FOR ? ANY PERSONAL ITEMS LEFT BEHIND OR TRACE EVIDENCE ... EYEWITNESS TESTIMONY THAT WOULD BE DISREGARDED AS LIES ... SO WE HAVE TO LOOK FOR EVIDENCE BASED ON THE ASSUMPTION THAT SOMETHING OF THE A PARANORMAL POLICE ARE NATURE INVESTIGATING OCCURRED . THE CASE . BASED OFF THE ASSUMPTION THAT IT WAS COMMITTED BY A HUMAN ... THINGS LIKE THAT NO INTRO WIPE THAT'S RIGHT . DR . SEKURA DID MENTION SOME Mucus - LIKE STUFF THAT WAS FOUND AROUND THE WOUNDS ON MAYBE WE THE BODIES . SHOULD LOOK FOR SOMETHING LIKE THAT . PRECISELY . PRECISELY . WIPE WE'LL SPLIT UP FOR NOW . CALL ME IF ANYTHING COMES UP . ml . TIME TO DO SOME EXPLORING ! You GOT IT !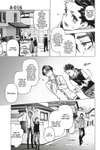 Page 2 Transcriptions
WE'LL START BY ASKING AROUND ! AND BY THE WAY HUH ? ANYTHING OUT I CAN'T OF THE THINK OF ORDINARY ANYTHING LATELY ? THAT COULD BE LINKED TO THAT CASE . AREN'T HAVING YOU TWO OF HIGH YOUNG ? A PAIR A LITTLE SCHOOLERS PLAY COPS ISN'T FUNNY . I SIMPLY DON'T KNOW WHAT THE MY YOUTH ARE THINKING GOODNESS THESE DAYS . FRIGHTENING WHAT'S MORE THAN A MASSACRE ? I KNOW THAT MOTHER WAS BUT SHE VERY STRICT WAS ONLY WHEN IT DOING IT CAME TO HER FOR THEIR CHILDREN'S SAKE . GRADES . THERE WAS NO GOOD REASON TO KILL HER OVER IT ! RIGHT ? DON'T YOU BOYS THINK SO ?