Page 1 Transcriptions
Hero & Shero EPISODE 11 HIDE AND SEEK WRITER : HAN ARTIST : LILY COLORS : LILY LETTERS : JELL WANG COVER : BILLY TAN , LINA JIN , GADSON TRANSLATION : WEN JIE CAI QUALITY CHECKER : TADAMORI YAGI 21 , HE FET , ADA . ES : @ IŁ All characters feature in this comic are trademarks of Tan Comics . All rights reserved . Any similarities of names , characters , persons or institutions in this comic with any persons , institutions or publications are purely coincidental . WWW.TANCOMICS.COM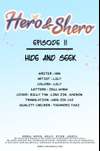 Page 2 Transcriptions
DING DONG SWEETHEART I CAN SEE YOU . OPEN THE DOOR .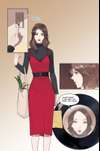 Page 3 Transcriptions
OH NO , CAN'T STAND TOO CLOSE TO THE DOOR , OTHERWISE ... HUHZ THERE'S SOMEONE ELSE INSIDEZ IF MY MOM KNEW A MAN WAS LIVING HERE ... THAT CAN'T HAPPEN !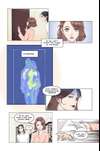 Page 4 Transcriptions
WHAT IS SHE UP TO NOW ? Raima CLUNK OH NO , SHE'S COMING IN , HIDE HERE FOR NOW .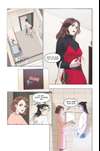 Page 5 Transcriptions
TK 10 MOM ... WHAT ARE YOU DOING HERE ?
Page 6 Transcriptions
W - WHAT ? IS THERE SOMETHING ON MY FACE ? MY BABY ! I'VE MISSED YOU so MUCH ! THIS AGAIN ... THAT'S ENOUGH NOT YET , NOT YET , NOT YET ! YOU CAME OUT OF ME AND I CAN'T EVEN HUG YOU NOW ?! I JUST WANT TO REMIND YOU , THE THINGS YOU BROUGHT ARE MELTING . I GOT YOU AN ICE CREAM CAKE SINCE WE DIDN'T CELEBRATE YOUR BIRTHDAY TOGETHER .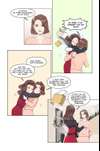 Page 7 Transcriptions
MOM , I ... SO COME ON , YOU WON'T GET FAT FROM EATING A LITTLE BIT EVERY DAY . OR ... YOU CAN LET YOUR FRIEND HAVE SOME ادر SWAP ... WHAT FRIEND ? HMPH YOU WERE STUBBORN EVEN AS A KID YOU WON'T ADMIT UNTIL IT'S IN FRONT OF YOU .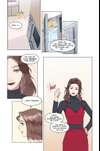 Page 8 Transcriptions
SIAM WISA WAIT ! SLAM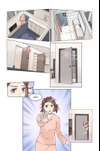 Page 9 Transcriptions
OH ... SO HE'S IN HERE ... WAIT A MINUTE ! IT'S NOT WHAT YOU THINK . DON'T WORRY , YOUR MOM'S NO ANTIQUE SWEETHEART , WHAT WE HAVE IS TELEKINESIS , NOT TELEPATHY . THERE'S NOTHING WRONG WITH LIVING AS TWO CONSENSUAL ADULTS . HOW DO you KNOW WHAT I'M THINKING ?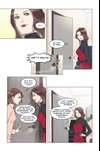 Page 10 Transcriptions
I ALREADY SAID IT'S NOT WHAT YOU THINK , BY THE WAY , You DIDN'T EVEN TELL ME YOU BROKE UP WITH THAT OTHER GUY . THAT'S PRIVATE . I SHOULDN'T HAVE TO TELL YOU YOU'RE EVERYTHING BREAKING MY HEART HERE . IF WE KEEP THIS UP , THE DOOR'S GONNA BREAK . CLACK NOW I'M REALLY CURIOUS WHO'S MAKING YOU PROTECT HIM LIKE THIS . SEE , THERE'S NO ONE HERE .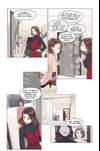 Page 11 Transcriptions
HA , LOOKS LIKE I WAS WRONG . THERE REALLY ISN'T ANYONE HERE ... АНА ! ! YOUR FACE LOOKS JUST LIKE IT DID WHEN YOU WERE LITTLE AND YOU'D TRY TO HIDE YOUR MAGAZINES . CRACK UH OH ...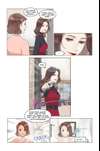 Page 12 Transcriptions
BIORE ... HUH ? WHERE DID HE GO ? STRANGE , I THOUGHT I SAW ... WHY DID You PUT UP A BARRIER IN THE BATHROOMS ... I WAS AIRING OUT THE ROOM AND DIDN'T WANT ANYONE TO BE ABLE TO LOOK IN FROM THE OUTSIDE . BUT THIS IS THE TWENTY - SECOND ... HUHZ AHHHHHH ! SWEETHEART , GET IT OFF OF ME ! OKAY , LET'S EAT .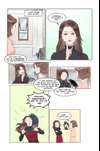 Page 13 Transcriptions
ALL RIGHT , I BROUGHT SHORT RIBS . DO YOU WANT THEM BRAISED OR IN SOUP ? SOUP TO BE CONTINUED .. WWW.TANCOMICS.COM