Page 1 Transcriptions
Hero & Shero EPISODE 8 GO WITH THE FLOW WRITER : HAN LAYOUT : BILLY TAN FINISHER : TAKO ZHANG BACKGROUND : JILL WANG , LINA JIN COLORS : GADSON LETTERS : LINA JIN COVER : CUZN TRANSLATION : WEN JIE CAI QUALITY CHECKER : TADAMORI YAGI , Ke TFF , 1. ETH : @ X1 All characters feature in this comic are trademarks of Tan Comics . All rights reserved . Any similarities of names , characters , persons or institutions in this comic with any persons , institutions or publications are purely coincidental . WWW.TANCOMICS.COM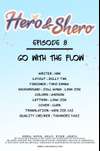 Page 2 Transcriptions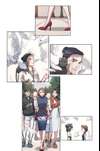 Page 3 Transcriptions
WHY'D YOU STEAL MY CAT ? I I LOCKED THE DOOR . HOW DID YOU GET OUT ?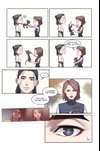 Page 4 Transcriptions
DID You BREAK THE LOCK ? CAN YOU MOVE THROUGH WALLS ? WHY'D You BRING JAX out ? SAY SOMETHING DON'T THINK I WON'T THROW YOU JUST BECAUSE WE'RE IN PUBLIC . A SECOND TIME . So , you GUYS KNOW EACH OTHER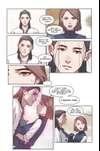 Page 5 Transcriptions
I'M HIS TEMPORARY GUARDIAN , INTERESTING CARE TO INTRODUCE US ? I SPENT THE AFTERNOON CHASING AFTER HIM . YOU THINK HE'S MORE IMPORTANT THAN PETER SOM ? NOT ONLY THAT , I WANT TO ENTER HIM INTO THE CONTEST TO REPRESENT OUR COMPANY . QUIT PLAYING AROUND I'M VERY SERIOUS . WHAT KIND OF PROFESSIONAL WOULD DO SOMETHING SO RASH ? I WHAT KIND OF PROFESSIONAL WOULD JUMP TO CONCLUSIONS WITHOUT ANY EVIDENCE ?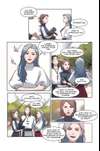 Page 6 Transcriptions
HIM ? A MODEL ? I HADN'T THOUGHT ABOUT THAT BEFORE ... I NEED TO TAKE A LOOK !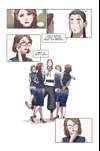 Page 7 Transcriptions
WHAT DO YOU THINK , DIRECTOR CHENS I THINK , ONCE I FINISH THE NECESSARY INVESTIGATION AND ASSESS THE PROS AND CONS THEN I CAN TELL YOU WHAT I THINK . WHAT DOES THAT MEANZ THAT MEANS ... ... I NEED MORE DATA . WAIT .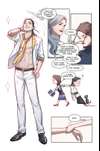 Page 8 Transcriptions
I FOUND HIM . BUT HAVING HIM ENTER THE COMPETITION WAS MY IDEA . WHY DO You GET TO TAKE HIM AWAY ? FIRST , HE'S A PERSON , NOT AN OBJECT . ' FINDERS KEEPERS ' DOESN'T APPLY HERE . EVERYONE KNOWS THAT THOSE WHO DICTATE THE TRENDS ARE NOT THE ONES WHO SUGGESTED CORAL BLUE AT THE MEETINGS SECOND , EVEN IF HE WAS AN OBJECT , PROPERTY LAW STATES THAT LOST PROPERTY SHOULD BE RETURNED IT TO THE RIGHTFUL OWNER . BUT THE ONES WHO ARE WEARING IT DURING FASHION WEEK . AS HIS TEMPORARY GUARDIAN , THAT'S ME . AH ! HAT'S BANDIT LOGIC . I'LL SEE YOU IN COURT THEN .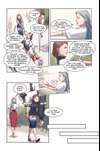 Page 9 Transcriptions
SERIOUSLY ? YOU THINK JUST BECAUSE You'RE INTERNS YOU DON'T NEED TO CARE ? THESE SANDALS COST 700 DOLLARS . You JUST STUFF THEM INTO THE BOTTOM OF THE BAG ? Do you THINK THIS IS A GOING - OUT - OF -BUSINESS SALE ? IF THE STYLIST CAN'T FIND SOMETHING WHO DO YOU THINK IS RESPONSIBLE ? HOW MUCH MORE DO I HAVE TO CLEAN UP AFTER YOU ? LINA , ALL YOU GIVE ME IS BUSY WORK , YEAH , I THINK I CAN HANDLE MORE RESPONSIBILITIES . YOU CAN'T EVEN TAKE CARE OF THESE SMALL TASKS . HOW DO YOU EXPECT ME TO TRUST YOU WITH MORE RESPONSIBILITIES ? WE FINALLY GET TO SEE HER IN PERSON ... EVERYTHING ABOUT HER IS IMPECCABLE . D - DIRECTOR CHEN ! HOW DO YOU HAVE TIME TO COME HERE ? ABOUT THE PHOTOGRAPHER ...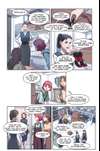 Page 10 Transcriptions
SWISH WAIT , WHO'S HEZ SWISH ' THE TROPHY . SNIP -PSSSSH AM I GETTING IT WRONG OR IS THIS A GAME OF DRESS UP ? 12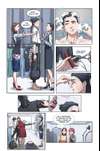 Page 11 Transcriptions
ALL RIGHT LOOK OVER HERE ! PUT YOUR HAND DOWN . LOOK AT THE CAMERA . DON'T BE NERVOUS . RELAX AND LOOK OVER HERE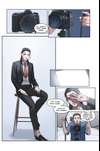 Page 12 Transcriptions
s -AF AF - S OSD 1080 ( 10m00s ) CAN YOU OPEN YOUR EYES ? I'M HOLDING A CAMERA , NOT A FLASHLIGHT WIDE SA ... DOES HE NOT UNDERSTAND WHAT I'M SAYING ? 100 F1.8 000 no SO 1 non LOOK AT THESE PHOTOS . I'D HAVE THOUGHT I WAS SHOOTING OUR PRESIDENT SO , HE WON'T DOZ ... HARD TO SAY . LOOK AT HIS EYES . -AF - Se 100005 you CAN'T HELP BUT WANT TO KNOW ... WWIDE --- 00 F1.8 1000 WWIDE o ... WHAT HE'S BEEN THROUGH . sena F1.89 100 AF SOL ΜΙΑ , , WHERE DID YOU FIND THIS GUY ? ... SOMEWHERE COMPLETELY DIFFERENT FROM HERE WIDE ISO AUTO 1000 100 F1.8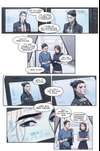 Page 13 Transcriptions
GET UP WE'RE GOING , WE'RE BEING USED AS UNSKILLED LABOR . YEAH , HOW COME THAT GUY GETS TO BE SHOT BY JASON AS SOON AS HE SHOWS UP ? DIDN'T You SEE ? DIRECTOR CHEN BROUGHT HIM OVER ! HE MUST BE CONNECTED -CLACK HEY ! WATCH OUT ! CRASH
Page 14 Transcriptions
DIRECTOR CHEN ! THAT GUY PASSED out ! TO BE CONTINUED ... WWW.TANCOMICS.COM