Page 1 Transcriptions
Heroeshero EPISODE 4 LIFE AND WORK WRITER : HAN LAYOUT : BILLY TAN FINISHER : TAKO ZHANG BACKGROUND : JILL WANG , LINA JIN COLORS : GADSON LETTERS : LINA JIN COVER : CUZN TRANSLATION : WEN JIE CAI QUALITY CHECKER : TADAMORI YAGI , Ke TFF , 1. ETH : @ X1 All characters feature in this comic are trademarks of Tan Comics . All rights reserved . Any similarities of names , characters , persons or institutions in this comic with any persons , institutions or publications are purely coincidental . WWW.TANCOMICS.COM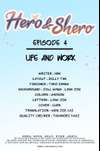 Page 2 Transcriptions
* PURR * PURR * * MEOW *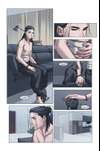 Page 3 Transcriptions
?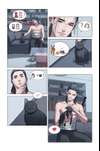 Page 4 Transcriptions
? DING MS . CHEN , DO YOU NEED ME TO PRINT OUT ANY MATERIALS FOR THE MEETING ? I COULD ASK LINA TO GET IT FOR ME ... OH NO I LEFT MY TABLET AT HOME NO , THAT GUY'S STILL THERE . HOW MUCH MORE TROUBLE IS HE GONNA CAUSE MEZ ! ARE YOU REALLY THAT UPSET OVER FORGETTING TO BRING MEETING MATERIALS ... ?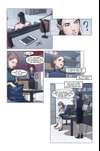 Page 5 Transcriptions
MS . CHEN , ARE YOU ... ALL RIGHT ? Ono SHOULD I TELL HERZ IT'S NOTHING I DIDN'T SLEEP WELL LAST NIGHT FORGET IT . THERE'S NO POINT TELLING HER BEFORE THE ISSUE HAS BEEN RESOLVED . WAIT ... MY SOURCE HAS SOME INFORMATION , ... SINCE WHEN DO YOU HAVE A SOURCE ? E SINCE THE FIRST TIME I GOT TRICKED BY THAT YULIANNA SHE SAID THE PRESIDENT HAD A BOARD MEETING THE DAY BEFORE YESTERDAY , AND HE'S RUSHING TO GET BACK TODAY , MAYBE TO LAY PEOPLE OFF ... HEY ... ARE YOU LISTENING TO ME ? You GO AHEAD ... ... I'LL BE RIGHT THERE .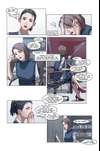 Page 6 Transcriptions
os SO WHY SHOULD WE GET LAID OFF FOR MIA'S MISTAKE ? SHE WAS HANDPICKED BY THE PRESIDENT . HE'S NOT GOING TO LET HER GO . PSH . PEOPLE WITH GOOD LOOKS ALWAYS GET AWAY WITH EVERYTHING YEAH , EXACTLY . AS EXPECTED EVERYONE'S POINTING THE FINGER AT MIA . SEEING THE STATE SHE'S IN RIGHT NOW , CAN SHE REALLY HANDLE IT ... ? CLICK CLICK MAYBE I SHOULD PERSUADE HER TO TAKE A SICK DAY .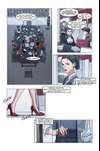 Page 7 Transcriptions
THERE'S SOMETHING I WANT TO SAY BEFORE THE PRESIDENT ARRIVES . n SORRY I'M LATE . I'M SURE EVERYONE'S AWARE THAT , DUE TO THE DRUG ABUSE INCIDENT , THERE WAS A SHARP DECLINE IN SALES OF THE SEPTEMBER ISSUE OF ' RYAN , THE MOST IMPORTANT ISSUE FOR FASHION MAGAZINES . THERE ARE EVEN RUMORS OF LAYOFFS WITHIN THE COMPANY . I BROUGHT LEO INTO THE COMPANY , AND I'M ACCOUNTABLE FOR WHAT HAPPENED WITH HIM . HOWEVER , DATE INDICATES THAT SINCE HE BECAME THE TOP MODEL AT ' RYAN . THE TOTAL AMOUNT OF ADVERTISING INCREASED BY 67 % . THAT'S WHY I'M NOT GOING TO APOLOGIZE , ... I SHOULDN'T HAVE DOUBTED HER ,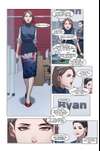 Page 8 Transcriptions
IF I HAD THE CHANCE TO DO IT I'D STILL AGAIN , MAKE THE SAME CHOICES . ... THAT'S ALSO THE REASON I CAME BACK TODAY . I STRONGLY BELIEVE THE MAGAZINE NEEDS A ' PILLAR , an WELL SAID ... TO BE CONTINUED .. WWW.TANCOMICS.COM