Page 1 Transcriptions
Making of Aandet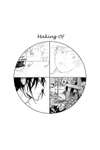 Page 2 Transcriptions
Sophie : First of all , we write the plot of the story . Anna and I lay out all of our ideas and then I put it all together . When we're satisfied , we hand it over to our editor Bea , who then looks over it . Once we're all ready to move forward , Anna continues with the storyboard . : D Storyboard Leste walk a deep he doesn't I'm sure Niko will calu down soon . Yeah hithin there othing alute I hope right . you're Dawn That stubbon idiot : Keep your chin ! Should I check in on him ? This Hacks ! Anna : Wherever conversations take place , sometimes the dialogue is decided during the storyboard phase because Sophie leaves room for changes in the plot . During paneling , I take into account that there are two sides facing each other and the black and white parts are consistent . Sophie : After we clarify which elements of the story are important and Anna has given me the storyboard , I look over it and sometimes correct the dialogue or make comments regarding the paneling , flow of reading , etc. After that , we pass everything on to Bea in the editorial office . :)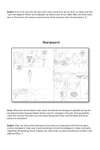 Page 3 Transcriptions
Sketches Anna : The sketches are done in pencil , so it literally takes a lot of physical effort . : D Imagine ' blue lines ' here ! : ' D the ways goes Sophie : The next step would be the " Blue Lines " ( because I like blue better than red ; D ) . Unfortunately , you can't see this here as the page is shown here in black and white . If notice something . I will scribble on Anna's drawings . Sometimes she asks what I meant ... : ' D The things that I like most get a heart ! < 3 very nice from compared to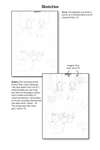 Page 4 Transcriptions
Lines Anna : On the same sheet , the outlines are created with pen and ink . Usually , I draw the backgrounds in this step . I'm very glad that Bea trusts my judgment . ( : Unfortunately , I still make smears , which gets me in trouble ... but can be corrected on the PC ! This saves my hands ! ; D KA Sophie : After scanning , I clean up the artwork : I remove lint and dust particles , and I try to get the pages and speech bubbles looking as clean as possible . : D Depending on the artwork , this can be done quickly , but other times it takes a long while . upiter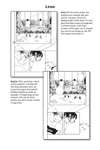 Page 5 Transcriptions
Raster Sophie : Again , scanning is my job and I put the digital raster on the pages . :) Sometimes this is one of my favorite tasks . Anna tells me what she thinks and then I try to work it out . :) Meanwhile , we have a couple " code words that we both understand . XD vpite Speech Bubbles and Sound Effects Words Anna : The speech bubbles and sound effects are created separately in a new layer . This makes it possible to edit the speech bubbles without affecting the illustration . piter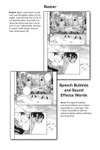 Page 6 Transcriptions
PSD - Data Sophie : Last but not least , in the PSD files where Anna placed the speech bubbles and special effects words , I swap the line art with the fully rendered pages . Then we send them to TOKYOPOP . We then receive an email with corrections and questions that need to be clarified . In the end , everything then is sent to the printing house . : D ini CREATIVE WORK Anna's work space .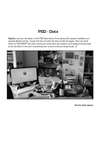 Page 7 Transcriptions
Character Study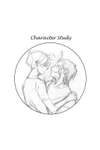 Page 8 Transcriptions
Niko Sophie : He always tries to take care of everything on his own and doesn't want others to see him like this ... Sophie : From the beginning . Niko was a character who smiles a lot . Anna : Niko's spirit animal ? Definitely a dog ! Sophie : But he doesn't hesitate to get loud when necessary . If something is important to him , then he's committed to it Anna : An older version of Niko . : D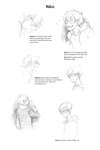 Page 9 Transcriptions
Sophie : Basically , Niko is a very positive person and always tries to look forward . Anna : Niko is easy to draw . His fluffy hair is fun to draw ! Anna : One of the first sketches I made for Star Collector . Right after we got the idea for the story ! I still like this picture a lot ! Sophie : He didn't get suspenders after all ... Maybe in the next volume . : ' D Anna : Hopefully in the next volume , Sophie !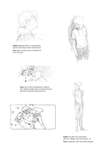 Page 10 Transcriptions
Fynn Sophie : Fynn always takes it easy and rarely notices problems . When he does , he just shrugs his shoulders . Sophie : Ha ha . Fynn looks very young here ! : D And it ended up being too warm for the scarf . XD Anna : I think Fynn has changed the most during the creation process . Cute characters easily become cooler . Well , Fynn isn't really cool and I had to get used to him at first . ( : Anna : Drawing Fynn smoking was difficult for me as a nonsmoker . I felt that I couldn't draw it authentically . Anna : Fynn was actually the first longhaired boy that I've drawn . Sophie : Fynn has always been great at sleeping XD Sophie : The two boys doing what they each do best .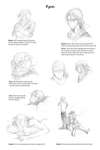 Page 11 Transcriptions
Anna : This sketch is similar to what took place in Chapter 5 , I noticed that after the drawing phase ! : D Anna : The scenery for Fynn and Zoe's discussion came to mind early on . Sophie : I really like the relationship between Fynn and Zoe . :) You can feel the deep bond between the two somehow . Poor Zoe ... او او او او او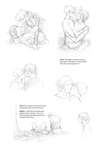 Page 12 Transcriptions
Zoe Anna : With Zoe , I could pursue my love for Pixie hairstyles ! : D Sophie : Even though Zoe tries to hide it , she's very distressed about breaking up with Fynn . Sophie : I really like Zoe's cheeky and loud manner . It's just fun ! : D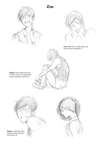 Page 13 Transcriptions
STAR COLLECTOR