Page 1 Transcriptions
GILLEN MCKELVIE WILSON COWLES THE WICKED + JNIAIS JHI image ISSUE 8
Page 2 Transcriptions
UNDERGROUND DIONYSUS KISS STORY PARTY XI . LOCATION : NOT TELLING . HEY ! LAURA ! YOU'RE HERE ! QUIT ROCKING THE MOODY LOOK AND GET INSIDE STILL NOT SURE I HAVEN'T COMMUNED WITH A GOD SINCE ... SINCE HER . I KNOW . THAT'S WHY YOU'VE AVOIDED MY NEW RESIDENCY I COULD BE HURT IF I WASN'T FAMOUSLY LOVELY BUT THIS ISN'T ABOUT US . THIS IS ABOUT THE MYSTERY FUCK IT FUCK IT FUCK IT . AND GOING DIONYSIAN ON A SATURDAY NIGHT LOOSENS PEOPLE UP ... I KNOW 1 KNOW I KNOW . R ! EM On hey , LAURa / I'm DOWNSTAIRS . YOU ARE ... I'M GLAD you came .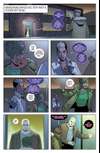 Page 3 Transcriptions
LITTLE QUEEN Of heaven TOLD ME YOU'D BE HERE . WELCOME TO The Party at the END OF THE WORLD . GOOD TO SEE YOU again . YOL00 ..SURE YOU WERE ONE OF THE MORRIGAN'S FANS , RIGHT ? " ShakesPEARE in THE DARK " ? UGA . 50 . WHY the past TENSE ? STILL am . VOL60 YOLU I was FRONT ROW in the station When you WERE DOING YOUR ... What DID Baphomet CALL IT ?