Page 1 Transcriptions
A HUSBAND'S VIRTUE 1 € -- Localization produced by INKR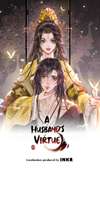 Page 2 Transcriptions
THE IMPERIAL TEACHER DARED TO REFUSE MARRIAGE , HE'S JUST DIS REGARDING THE EMPRESS DOWAGER ! WHAT'S MORE , HE STOPPED US FROM URGING HER MAJESTY TO GET MARRIED ! AND HE SAYS HE HAS SOMEONE HE LIKES , JUST BECAUSE HE SAYS THERE IS , THEN IT'S TRUE ? ma THEN HE GOES AND SELECTS A GROUP OF BEAUTIFUL MEN FOR HER MA TESTVI

Page 3 Transcriptions
then he goes and selects a group of beautiful men for her majesty!

Page 4 Transcriptions
19 THAT'S FINE TOO . 6 LOOKS LIKE THE IMPERIAL TEACHER UNDERSTOOD MY REMINDER , IF THERE ARE EXCELLENT MARRIAGEABLE SONS IN YOUR FAMILY , PLEASE ACTIVELY RECOMMEND THEM . SMELLS SO NICE THE MEAT IS GRILLED JUST RIGHT ™ WHAT IS THE EMPRESS DOWAGER SAYING ? Las OSTR GRAY AND HE TOOK THE INITIATIVE TO CHOOSE A HUSBAND FOR HER MAJESTY . DON'T AVOID IT OUT OF FEAR OF RUMORS OF " USING YOUR FAMILY FOR GAINS " . NATUR OLE 252 T

Page 5 Transcriptions
WE ARE WORRIED ABOUT GREAT NI'S FUTURE , AND AM NOT URGING HER MAJESTY FOR OUR OWN BENEFITS !

Page 6 Transcriptions

Page 7 Transcriptions
CHEN TAN MANOR ZHAO GAO 888 SHHH ! DON'T TALK NONSENSE ! CHEN 2 GT - SECT GU YOUNG LORDS FROM THE FAMILIES OF THE FOUR GREAT REGENTS AGAIN ? How many is that already ?

Page 8 Transcriptions

Page 9 Transcriptions
M

Page 10 Transcriptions
MY LORD , IT'S TIME . MYMYDAY

Page 11 Transcriptions

Page 12 Transcriptions

Page 13 Transcriptions
ALL THE YOUNG LORDS HAVE GATHERED ? I'LL GO TAKE A LOOK NOW . YES , MY LORD . LORD IMPERIAL TEACHER ! THIS IS LORD CHEN'S ELDEST SON BORN OF A CONCUBINE !

Page 14 Transcriptions
HONEST AND STEADFAST , PROFICIENT IN MARTIAL ARTS CAN PROTECT HER MAJESTY AT ANY TIME ! HER MAJESTY IS LOOKING FOR A HUSBAND , NOT A HIDDEN BODYGUARD . OLAR IN A SLE BIAG A NO 2 CLASSIC ASSIST HER MAJESTY TO BECOME A PEERLESS RULER ! HE IS WILLING TO GREAT N FIGURE W HEA THIS IS LORD GAO'S SECOND SON BORN OF THE FIRST SINCE . SINCE CHILDHOOD , HE HAS BEEN STUDYING THE FOUR BOOKS AND FIVE CLASSICS DILIGENTLY . RIE NO POLITICS IN THE HAREM .

Page 15 Transcriptions

Page 16 Transcriptions
THIS IS THE ADOPTED SON OF LORD GU . HE HAS BEEN BROUGHT UP CONSIDERATE AND HAS GREAT SKILL IN BED . WHERE THE HELL DID THIS ONE COME FROM ! WHO IN THEIR RIGHT MIND WOULD LEARN THAT SORT OF THING ! AN ENCHANTING BEAUTIFUL MAN HER MAJESTY WILL SURELY BE KEPT HAPPY EACH NIGHT AND HAVE TWO BABIES IN THREE YEARS !

Page 17 Transcriptions
WHAT KIND OF WEIRD CANDIDATES ARE THESE ?

Page 18 Transcriptions
w FAREWELL ! LORD IMPERIAL TEACHER , THIS IS ZHAO RESIDENCE'S YOUNG LORD ... WHAT'S THE MATTER ? LORD ... CONGRATULATIONS ON BEING IN GOOD HEALTH !! WE ALSO BID YOU FAREWELL !

Page 19 Transcriptions
......

Page 20 Transcriptions
FRESAT CONT --- K 14
Page 21 Transcriptions
40 A YOUR MAJESTY ... Her Majesty's selection of a consort attention about the matter regarding Subject Zhao Xun requets your STUDY REPORT HOW CAN I BE WILLING TO LET OTHERS HAVE YOU ...

Page 22 Transcriptions
Localization produced by INKR