Page 1 Transcriptions
A HUSBAND'S VIRTUE 1 € -- Localization produced by INKR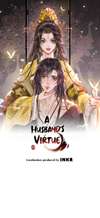 Page 2 Transcriptions
This is a... world where women are at the top. Women are in charge of holding up the household, the sovereign descends the world

Page 3 Transcriptions
showing themselves publicly. Men only need to sustain the bloodline, assist their wives and bring up children, and obey the Three Obediences and Four Virtues.

Page 4 Transcriptions

Page 5 Transcriptions
Page 6 Transcriptions
And I, Si Long, heed my orders! born in the [Great Ni Dynasty], inherited my ancestors' teachings, and am determined to unify the six kingdoms! NI thud thud thud

Page 7 Transcriptions
Follow me to pacify the six kingdoms and rule the world! In order to be free from worries and fight for the country, I, even sacrificed personal (sexual) happiness! thud thud thud

Page 8 Transcriptions

Page 9 Transcriptions
the last enemy state of great ni has been captured! I officially announce—— From now on, the six states are united and under the banner of Great Ni!

Page 10 Transcriptions
Starting today, I am the first Empress of Great Ni. For all generations hereafter, WHOOSH my legend will spread on! From now on, the six states are united and under the banner of Great Ni!

Page 11 Transcriptions
Long live Your Majesty! Bless our great Ni! Receive the Mandate of Heaven! and with it longevity and prosperity!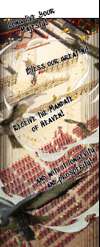 Page 12 Transcriptions
si long! FLAP I curse you with infertility!! that you'll die most painfully in the future!! great ni will fall to destruction in the second generation! FLAP

Page 13 Transcriptions
Hahaha! you won't be able to see how I die in the future. but I know you will lose your head today anyway. And tonight...!! just you wait...
Page 14 Transcriptions
I'll also beat your children! I'll sleep with them first then beat them! I will not only sleep with your man!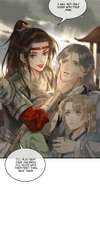 Page 15 Transcriptions

Page 16 Transcriptions
Imperial father, sobs! I'm afraid! Tsk tsk tsk, when the time comes, father and the two sons will be servicing one woman together. That scene~ do this ah~~~ do that

Page 17 Transcriptions
ah~~

Page 18 Transcriptions
ahhhhh you! you tyrant! old virgin! v-virgin tyrant!

Page 19 Transcriptions
The world is at peace! It's time to consider marriage! historian I must have the historian get rid of that phrase [Virgin Tyrant] from <Great Ni's History>! stop! you're not to write down her insults! historian

Page 20 Transcriptions

Page 21 Transcriptions
Her Majesty decrees, select Ten pure men with talent, beauty, and virtuous character to be ready to serve tonight. yes!

Page 22 Transcriptions
state teacher! I asked you to come, because I need your guidance on how to deal with men! why are you showing me a bunch of fighting figurines instead?! Your Majesty, These are secret figurines of the play in the harem. they're showing various fighting skills in bed. crossbeam mount technique woah!

Page 23 Transcriptions
holy crap! Like having a fish bone stuck in the throat technique deep anxiousness technique I see!

Page 24 Transcriptions
As long as it is accompanied by the immortal pill from specially collected medicinal ingredients... sweet flag, woad, spiranthes, amber, crape myrtle, cold water, zinc, cicada Sandalwood, Fringed Pink natural indigo, bitter Elixir of life Agarwood, elderberry, Anthocyanin as expected of your majesty! you're born with wisdom and heavenly talent! sure enough, you comprehended the hidden bed skills of the secret figurines! tulip, Platycladus pokeweed, buckthorn, Teasel Root, malabar spinach, beefsteak, Graptoveria
Page 25 Transcriptions
that I painstakingly refined. , function as a bellows and its nozzles. They tread on and cover the Dao of Yin and Yang, and they are where the work is driven from. They level the marking-cord and the plumb-line, hold the bit and the bridle, align the compass and the square, and follow the tracks and the ruts. In one month there are six nodes of five days. Altogether they are sixty: the firm is external, the yielding internal. One hexagram for each day and each night: their operation follows the Sequence. Heaven and Earth establish their positions, and change occurs within them. the Numinous Light will come on its own. Yet being the foundation of all changesand manifested in all things

Page 26 Transcriptions
And you will even get a twin embryo each time. ten months later, you will become the imperial mother of twenty children in one shot! In addition, harvesting yang and nourishing yin will prolong longevity! you will show off your femininity and not get stage fright! ...I guarantee once you've handled ten men tonight, Great ni's empress Esteemed

Page 27 Transcriptions

Page 28 Transcriptions

Page 29 Transcriptions
sob sob, ruined! everything is ruined! my prestige! In later history books, my [virgin tyrant] name won't be washed away! I am comparable to the achievements of the Three Sovereigns and Five Emperors!

Page 30 Transcriptions

Page 31 Transcriptions
swoosh huh?!

Page 32 Transcriptions
ahh!!!