Page 1 Transcriptions
Did she skip practice so that she can visit her mother's ossuary?
Page 2 Transcriptions
OSSUARY ? BUT WHO IS SHE TALKING TO ? SHOULD WE TAKE A BUS OR SUBWAY ? DO YOU WANT TO GO SOMEWHERE ELSE ? IT DOESN'T LOOK LIKE SHE'S TALKING TO OTHER SPIRITS .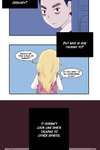 Page 3 Transcriptions
KICK ! THE GRIM REAPER IS HERE ! ARE YOU HERE TO TAKE ME ? IT'S THE REAPER ! WHERE ARE YOU GOING ? TAKE ME WITH You I'M SCARED . PLEASE DONT TAKE ME 7017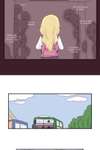 Page 4 Transcriptions
LET'S STOP BY HERE FOR A SECOND ! HUH ?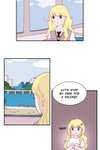 Page 5 Transcriptions
WHERE ARE YOU GOING ALL OF SUDDEN ?