Page 1 Transcriptions
CHAPTER 4 THAT DAY ons ses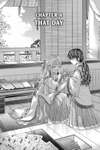 Page 2 Transcriptions
THAT'S WHY T WAS ALWAYS CRITICIZED EVEN BY MY OWN PARENTS . I WAS NEVER ABLE TO CONTROL MY POWERS EVERYONE KNOWS THAT HERE IN NOHMUR . NO ONE NOTICED MY EFFORTS ... NO MATTER HOW HARD I TRIED , IT WAS POINTLESS . THEY WERE THE FAMOUS RIGHT . I WAS SHIRANO FAMILY WORTHLESS . HAD A BLACK SHEEP ... ME . LYS WAS THE ONLY ONE WHO KEPT ENCOURAG ING ME . вит BECAUSE OF MY LACK OF SELF CONFIDENCE , I ENDED UP PUSHING HER AWAY TOO ...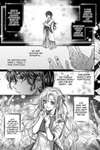 Page 3 Transcriptions
HER HAIR IS MADE OF WATER , HER SKIN IS SO PALE THAT SHE LOOKS TRANSPAR ENT ... AND HER EYES ARE CLEAR AND PURE LIKE THE SURFACE OF A LAKE . THIS PLACE VISNIT SAFE MIFOR YOU ANYMORE . ARE you ... THE ORACLE OF MIRES ? OH ! you MUST FLEE WHILE YOU STILL CAN ! NO ! ORACLE !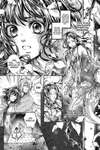 Page 4 Transcriptions
CUP LET ME SEE ... AGHYR HER WOUNDS ! WHA ... ? ROSTLE LOOK , HER HAIR ! IT'S BECOME NORMAL ! MIRES'S THE DRIED BLESSING IS UP RIVER , DYING FADING . THAT VEGETATION , ONLY HAPPENS AND NOW WHEN THE HER HAIR ... ORACLE DIES . NO ... SHE'S BEYOND SAVING ... WHAT COULD HAVE CAUSED SO MUCH DAMAGE ? DAMN ! THIS MEANS THAT ... A POISON THAT DOESN'T EXIST IN NOHMUR . I'M SURE OF IT ... WAIT ! THESE WOUNDS ... THEY WERENT INFLICTED BY A NORMAL WEAPON ! SHE HAS POISON IN HER BODY ...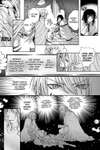 Page 5 Transcriptions
OF COURSE ! I'LL GO RIGHT AWAY ! MY LADY , CAN YOU DO ME A FAVOR ? CAN YOU BRING ME SOME WATER ? SINCE SHE'S THE ORACLE OF MIRES . WHEN WE GOT HERE , I IT'LL HELP NOTICED THERE QUICKER . HEAL HER WAS A LOT OF WATER LEFT IN THE FOUNTAIN AROUND THE STATUE , RIGHT BY THE ENTRANCE . SRÜSTLEN PANTERA ORACLE ? CATE YOU NEED TO LEAVE THE SANCTUARY RIGHT NOW PLEASE ! DON'T WORRY ABOUT ME ... PAUL ABSOLUTELY NOT THERE MUST BE SOMETHING WE CAN DO TO HELP you ! CS